Are you planning to set up an eCommerce store but need clarification about which platform to use? You are not alone!
Two of the most popular eCommerce platforms are Magento and WordPress. With so many options available, knowing which one is the best fit for your business can be challenging. Magento is a dedicated eCommerce platform, while WordPress is primarily a content management system that can be used for eCommerce. Each platform has unique advantages and disadvantages that make it suitable for different eCommerce stores.
This blog will compare Magento and WordPress and help you understand which platform is best for your eCommerce store based on your specific needs.
We will explore factors such as pros and cons and key differences. Whether you're just starting or looking to switch platforms, here is how you can determine which eCommerce platform is the right choice for your business.
Magento: Quick Overview!
One of the most well-known eCommerce platforms, Magento, is used by 26% of all websites. Magento provides its users with mobile commerce, version control, marketing tools, etc., just like WordPress does. Moreover, Magento delivers a great degree of customization, which gives users the freedom to create online storefronts. Businesses use it because it offers many possibilities for managing a website.
Key points:
Magento is used by more than 148K businesses globally.
Magento powers about 11000 of all Magento stores.
Magento is used by 11% of websites with US locations.
Magento is the eCommerce platform for 12% of all online stores worldwide.
Pros and Cons of Magento
Pros of Magento

Cons of Magento

Open-source & free
SEO optimized
Highly safe & secure
Access to multiple payment options
Free & paid themes are available

Limited support
Costly extensions
Not for small businesses
Additional hosting needs.
Slow time-to-market
WordPress: A Quick Overview!
WordPress is the most well-known and influential open-source content management system for building, upgrading, and maintaining websites. WordPress allows you to create a unique website for your company/business, even if your background is non-technical. You have many options for themes and plugins that make it simple to improve the overall user experience.
WordPress is a fantastic choice if your only objective is to create original content, start a blog, or promote your business to a wide audience. It makes it simple to bring a collection of pages and articles. Therefore, this platform benefits a company that wants an online presence while still attracting customers to its 'brick & mortar' locations. Consider the following key points:
WordPress runs more than 5% of websites on the internet
Today, WordPress is used on more than 64 million websites.
You may use 57 different languages on WordPress.
WordPress powers one in every four websites
Using WordPress, roughly 20 million pages are viewed monthly by about 409 million users.
Pros and Cons of WordPress
Pros of WordPress

Cons of WordPress

Easy to use & install.
Strong community
SEO optimized.
Flexible

Prone to breaches
Difficult to maintain.
Lacks dedicated support.
Expensive customizations
What is the Difference between WordPress and Magento?
Some key differences between WordPress and Magento include: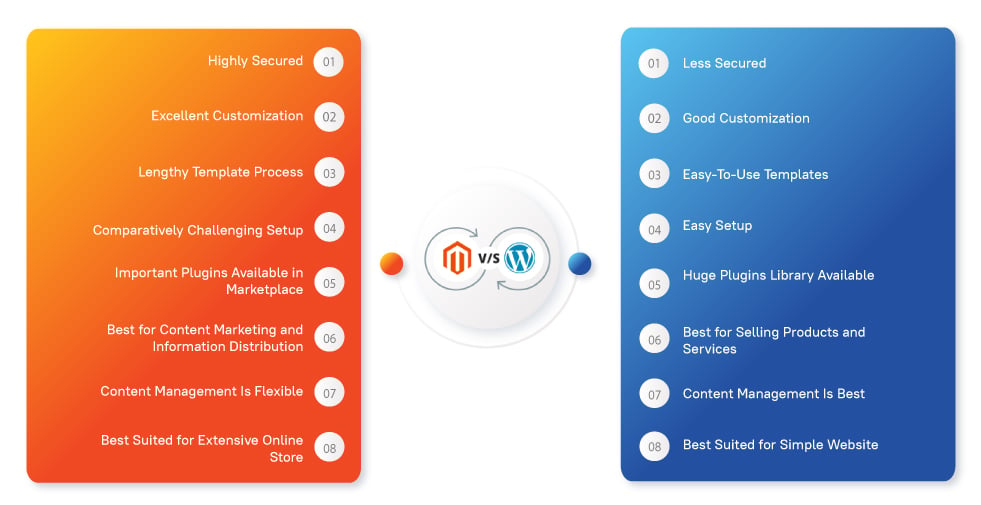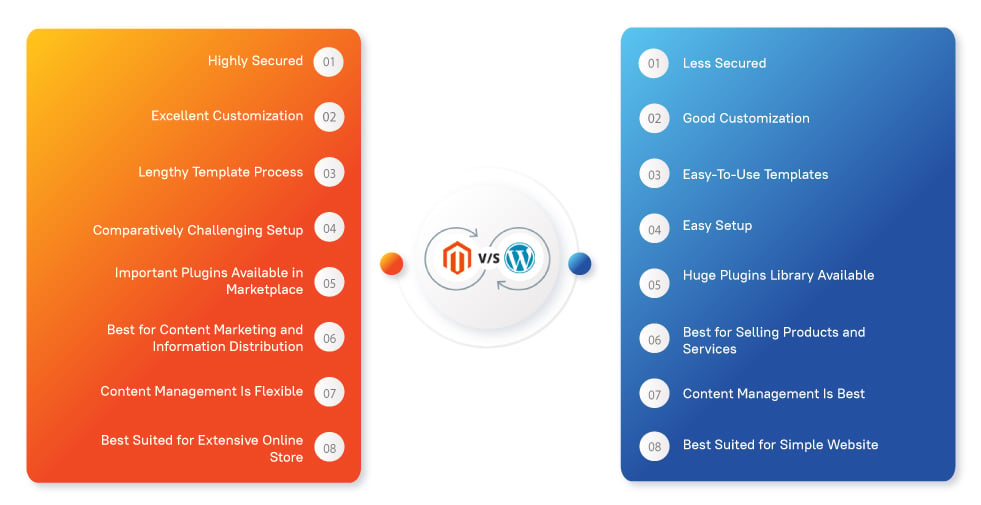 #1. WordPress vs. Magento: Security
Every organization must value data security. Protecting user information should be your top priority, especially if your business is online. WordPress makes it relatively straightforward to install themes and plugins but lacks security, which makes it vulnerable to malware attacks on many website owners' sites.
In contrast to WordPress, Magento, however, provides higher security features. It also publishes security updates that shield your website from threats and notify users when upgrades are available.
#2. WordPress vs. Magento: Customizability
If you require a fully customized eCommerce solution, Magento is a fantastic choice. WordPress is an excellent choice if you're looking for a simple platform with a user-friendly interface.
#3. WordPress vs. Magento: Templates
Creating template files for WordPress and using them on the same web page is more straightforward. Although the functionalities of Magento are very similar, the tasks cannot be completed with only a few clicks. Once the template file has been created for Magento, other CMS page templates cannot be configured. Instead, a new module needs to be made to update the templates.
#4. WordPress vs. Magento: eCommerce Web Development
It's far more challenging to use and set up Magento than it is to set up WordPress. Although you can create a WordPress site independently, you must work with web app developers to build quality websites.
#5. WordPress vs. Magento: Plugins Support
The Magento marketplace has various free and paid extensions that cover everything from content and upgrades to customer service, marketing, online payments, security, accounting, and finance.
More than 58,000 free and paid plugins are available for WordPress in its vast plugin library. Here, you can find any WordPress plugins that meet your technological, marketing, and logistical needs.
#6. WordPress vs. Magento: Usability
Magento is best for: –
Organizations with strong financial and operational capabilities and eCommerce enterprises that primarily focus on selling products and services.
Businesses that require a broad range of skills and characteristics that are unique to eCommerce.
Businesses that want to make the most of their website's potential in the online space.
WordPress is best for: –
Businesses whose objectives focus on content marketing and information distribution.
Cases in which a suitable and user-friendly web design is required, especially if the website is not solely dedicated to selling products.
Starting blogs, developing communities, opening shared businesses, and other similar endeavors
#7. WordPress vs. Magento: Content Management
The content management system is a massive help to your online store. Thus, it features components that let you create content and manage catalogs, collect customer data, process orders, launch promotions, and analyze sales figures. Magento also gives you significant flexibility when optimizing your eCommerce site's content for Google and other search engines.
While Magento is excellent for eCommerce, it may be excessive if you only want to build a straightforward website. WordPress might be a better choice in this situation. WordPress is a content management system that allows you to start from scratch when building a website or blog or to optimize an existing one.
#8. WordPress vs. Magento: When to Use?
The platform you use to design your website will determine your online store's success. If you want to create an extensive online store, choose Magento. But WordPress is the most excellent option if you're a startup and require a simple website for your digital products.
#9. WordPress vs. Magento: Selection of Platform
Magento is utilized for product ranges of more than 500 distinct products, whereas WordPress is typically used for startups or SMEs with a product range of 100 to 500 unique products.
Conclusion
WordPress and Magento are excellent options for helping businesses of all sizes set up online stores. WordPress is a good option for products that heavily rely on content marketing, while Magento is a decent choice for business eCommerce sites. Magento and WordPress have pros and cons; therefore, you must choose one after considering the abovementioned factors.
Getting in touch with a reputable eCommerce web development company to get their perspective is a fantastic option to help you make well-informed decisions for your business.
Next Steps
Feel free to contact us with questions regarding WordPress or Magento. With over 16+ years of experience, our experts always have suggestions for you.
Email us at sales@analytix.com or call 781.503.9002 today.
Follow our blog for industry trends and the latest updates.