Picture this—these days, there are 10000+ eCommerce websites offering quality goods and services. These websites are the same as your online store. Customers love an online store that is optimized, clean, clear, secure, and faster. Therefore, to stand out from all these websites, you need to ensure customer satisfaction.
Hence, your online store must be user-friendly. Such a website provides customers with a smoother shopping experience. For you, it is crucial to make a good impression to keep them engaged throughout the shopping experience. From content to graphics, everything should be customer-centric. In addition to customer behavior, online buyers are somewhat hasty while shopping online. A user-friendly website typically has a lower bounce rate since converting a lead into a paying customer is easier.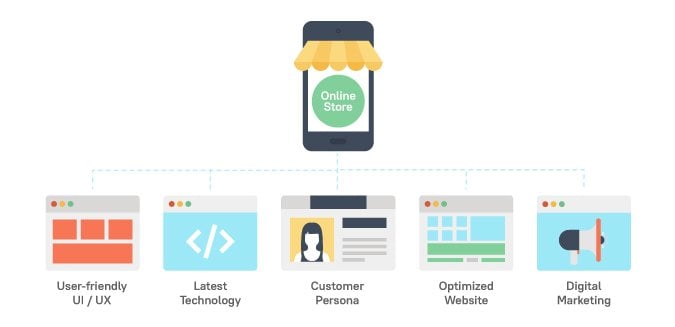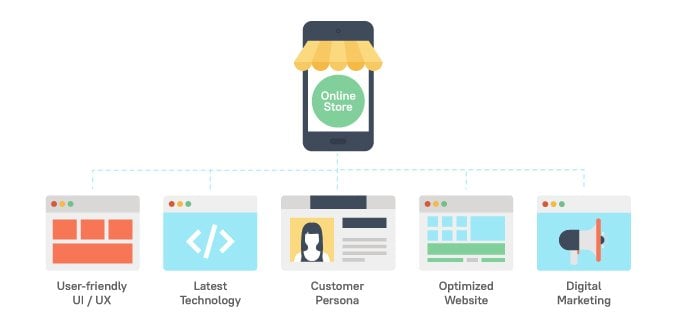 Here are 12 Ways to Make Your Online Store User-Friendly
1) Know your Customer
One of the best ways to make your eCommerce website user-friendly is by understanding what your customers want. Identifying your customer needs helps provide a personalized experience and use color psychology to influence their buying pattern. Customers enjoy shopping from an online store that looks tailored and relevant to their expectations. Also, creating a customer persona helps develop a custom eCommerce website that can cater to your customer needs.
2) Decrease Load Time
Online users are typically hasty and are very quick in deciding when buying online. They bounce from one website to another website to save time. If your website is slow in loading, customers might lose interest in viewing your product and services. It is advisable to optimize your website and decrease the load time. You can keep optimized content, remove third-party extensions and enable lazy loading on your eCommerce website.
3) Simplified Checkout Process
Did you know that customers often abandon their cart and leave your online store because of a lengthy checkout process? If you are experiencing higher cart abandonment rates, try to simplify the checkout process. You can provide multiple payment options so that customers can checkout easily. In addition, you can also review your checkout forms and remove extra fields. Customers love when the payment gateway loads faster and allow them to select easy payment options. However, utilize popular payment options to ease the shopping experience.
4) Seamless Navigation
Your website structure should work as an assistant for online buyers to complete shopping faster. Keep everything on the website simplified so that users do not have to work hard to find information—navigation plays a vital role in redirecting users from one page to another. For example, if a user views your product and has a hard time finding product reviews or buying options, they might bounce from your store and shop from your competitor's website.
Example – Allow your customer to sign up on your website and display the sign-in option on the front to find account-related information faster. This allows them to track order-related details more quickly.
5) Content Quality
Your eCommerce website should exude a branded look. Text and graphics should be clear and accurate to allow users to understand your products and services. Make your content readable at a glance. You do not have to use rich vocabulary or long sentences to make it look good. It will help to provide maximum information in an easy-to-read format. In addition, you can use video content or infographics to grasp customer attention.
To engage with customers effectively, it is advisable to have a high-end and user-friendly eCommerce store design to attract customers.
6) Product Recommendations
Customers love to see products recommendation while they shop. It helps them choose products faster. It is advisable to add product recommendations on the cart page, product page, or sidebar. This will enable them to add products to the cart effectively. You can also create combos of products to increase sales.
7) Advanced Search Filters
Using the latest technology is important to stay ahead of the competition. It allows you to automate business operations and marketing. Text search is a good option, but now you can enable your customer to search for information through voice and images. You can also allow users to search for products via different price ranges and other product variations to simplify their search.
8) AI Chatbot
Chatbots are great for helping users. They provide customer support, collect user data, and recommend products. In addition, a chatbot can help users complete their shopping experience more quickly. Add a chatbot to your website to provide accessible customer support and enable auto assistance.
9) Customer Reviews
Collect reviews from your customer about your product and services and display them on your website and apps. This will enable new customers to trust you and help you improve your product and services. To collect reviews from customers, offer them great deals and discounts on their next order.
10) Social Media Links
Stay active in building your brand on social media platforms so your customer can find out about new products and services easily. Moreover, it will allow users to understand your existing customer's thoughts about your brand, products, and services. Portray your social media links on your website and request your customer follow them.
Leverage social media platforms to connect with your users and improve your eCommerce store branding. Share updates related to your products and services to attract new customers and engage with existing customers.
11) Giveaways and Deals
The best way to make your store user-friendly and increase sales is by giving away free goods and services and offering great deals. This builds a strong relationship with customers and adds a personal touch to their emotions.
Add free shipping to your eCommerce store on minimum cart value. Eliminating shipping charges can increase your sale. Customer loves when they don't have to pay extra amount for the products and services.
12) Build Trust
There is no easy way for customers to trust online sellers because of online fraud. They often think twice before ordering products. To help customers trust your eCommerce site, highlight how you secure your online store, create strong authentication and educate them about your brand and customer support. Secure your site with an SSL certificate, use the most secured payment gateway, and implement the latest security extensions and software. An excellent customer support team can take you a long way ahead in the online business.
Tips
Post about your company, products, and services on social media regularly to attract new customers.
Follow the latest digital marketing tactics and techniques to increase sales.
Make your eCommerce store SEO friendly to generate free leads and divert organic traffic from the search engine to your website.
Continuously track your customer experience, Google analytics, search console, and sales data to improve your customer journey and grow faster in the competitive market.
Resources
Do you want to find your website score and check your website's compatibility with online users? Check your website speed and learn how to make your website faster – https://pagespeed.web.dev/
Analysis your online store free and discover optimization opportunities – https://gtmetrix.com/
Bottom Line
Optimizing your online store is crucial for converting a lead into a customer. A user-friendly store enables customers to navigate through products and services seamlessly. Another way to make your online store user-friendly is by adding the latest features like voice search, quality content, and graphics. This can help you streamline the shopping experience, ease the checkout process, and decrease the website's load time.
Next Steps