The eCommerce industry is continuously booming, and it's highly expected that this domain will continue to develop through digitalization. By opening cutting-edge eCommerce stores and making products and services widely available to consumers in new and creative ways, new business owners hope to take advantage of the sector's exponential growth potential.
Any merchant's first concern when launching an eCommerce store is the choice of platform. Contrary to what you may think, discovering "the best eCommerce platform" is not always a straightforward task. Today, an eCommerce platform is an absolute necessity for practically any retail company if you want to increase your business's profitability.
When deciding on building an eCommerce store, you will come across many eCommerce platforms that will leave you perplexed.  Nevertheless, we have compiled some tips & suggestions to assist you in choosing the best eCommerce platform for your needs. But first, let's quickly discuss the following:
eCommerce Platforms: A Quick Overview!
The concept behind eCommerce platforms is that a merchant builds an eStore by using the platform, and customers buy products and services from the eStore. However, three different types of eCommerce platforms exist. It's crucial to understand the differences between them to choose the right platform for your business:
SaaS: Solely software-based eCommerce platforms
PaaS: Software and hardware-inclusive eCommerce platforms
On-site: The shop owner hosts and manages local eCommerce platforms on their premises.
The Top eCommerce Platforms of 2023!
A few eCommerce platforms have consistently performed better than others. Here are the most popular eCommerce platforms today:
Shopify
Magento
WooCommerce
BigCommerce
If you want to know more about the top eCommerce platforms and the reasons behind their popularity, then read this blog: Top 5 eCommerce Platforms That Can Help Launch Your Online Store.
Now, let's discuss the key factors to consider when choosing the best eCommerce platform.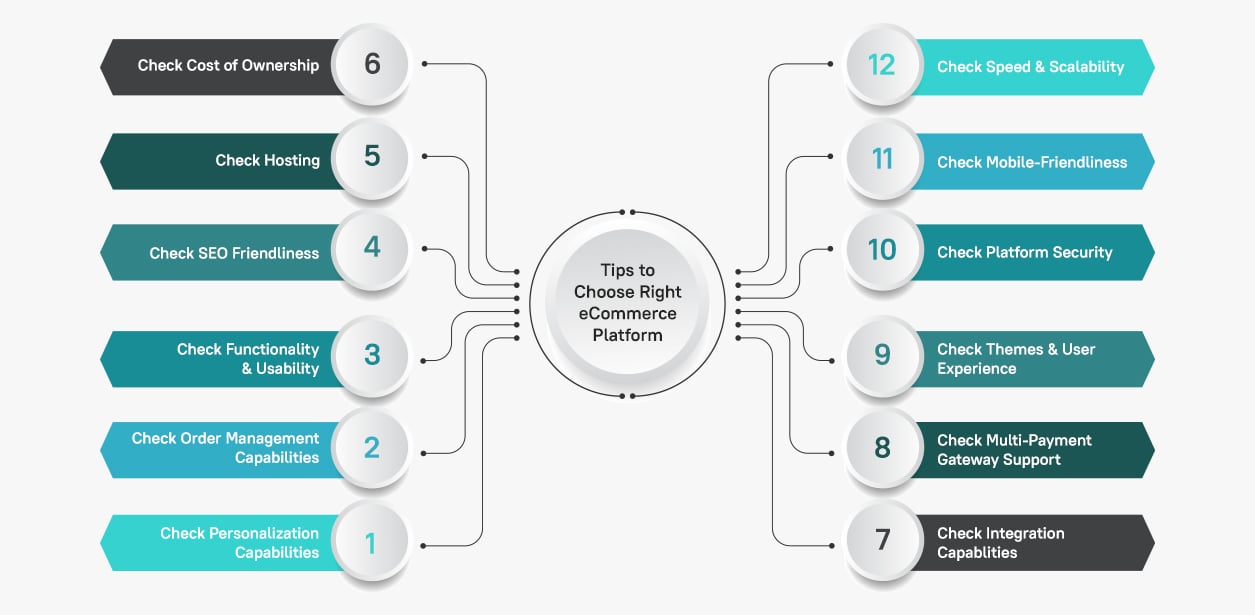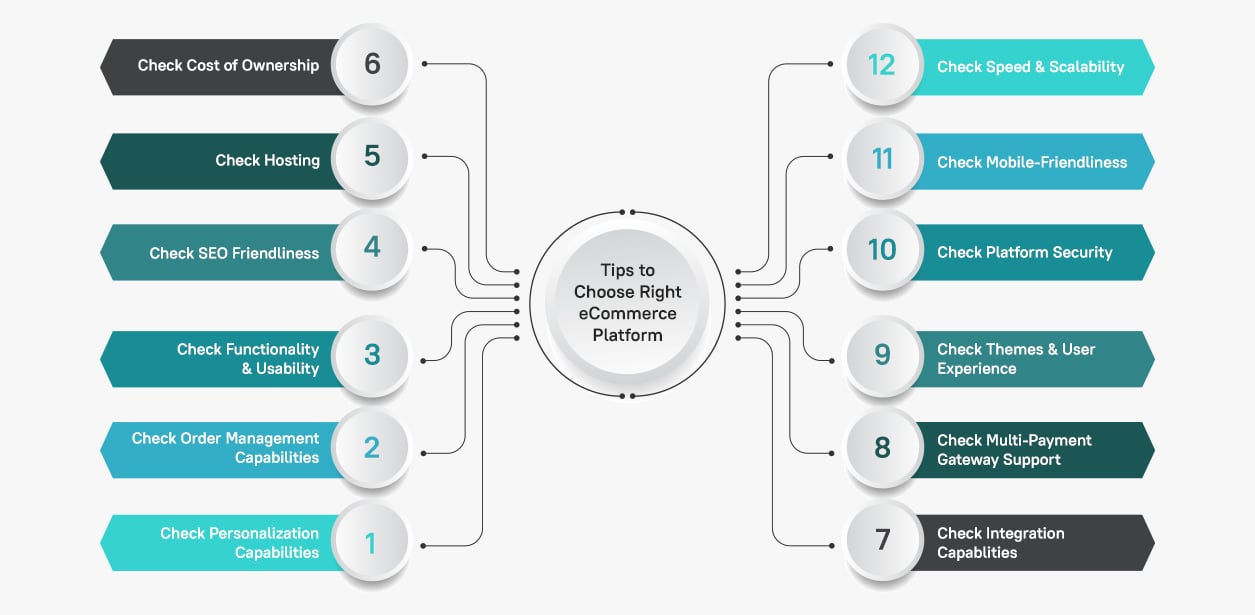 Do you want to build your online store, or do you want to know how to pick the right eCommerce platform? Here is a list of aspects to consider before making your choice:
#1. Check Integration Capabilities 
Yet another crucial factor is the compatibility of your selected eCommerce platform with your current setup and plugins. Not all integrations are compatible with your platform of choice. It is also advisable to confirm if your platform can be integrated with the shipping, POS, and accounting systems you already have set up.
#2. Multiple payment gateways support
To run a global eCommerce store, you must provide your customers with various payment methods. This can allow customers from multiple countries to transact effortlessly using their currency. Thus, you must always understand your target market and research the available payment gateways across various eCommerce platforms.
For example, Shopify only accepts PayPal as a payment method by default; however, it also supports more methods. The variety of possibilities may seem daunting, but you must choose a platform that incorporates payment methods that meet your company's needs.
#3. Themes & User Experience (UX) 
Most eCommerce platforms include a wide variety of pre-made templates and themes so you may quickly and effortlessly design the look of your online store. Consider how many premium and free templates your solution offers. Check out the community of the platform to find more designs.
Research the design customization options that your eCommerce platform offers. The best course of action is to find a platform that provides the ideal balance between design flexibility and a selection of ready-made templates.
#4. eCommerce platform security
Online businesses are more susceptible to cybercrime, which has been proliferating at a concerning rate. Cybercriminals prize personal information such as user details, addresses, phone numbers, and debit/credit card information.  Ideally, the best eCommerce platform should provide the highest levels of security. Therefore, you must protect your customers' privacy as an online merchant.
#5. Mobile Friendliness
Make sure your chosen eCommerce platform is mobile-friendly. Several eCommerce platforms were initially designed to work with a desktop interface. The various themes and templates must scale automatically on the customer's mobile device if you want your e-store to display correctly on any device.
 #6. eCommerce Platform Speed & Scalability  
An increase in user demand can quickly cause scalability issues when your online business grows. Therefore, picking an eCommerce platform that allows you to scale up when your web store's audience is growing is crucial. Be sure to always check for scalability issues such as high-order volumes, peak traffic, load balancing, high speed, uptime, and the ability to host multiple stores and brands under a single platform.
#7. Cost of ownership
Depending on your eCommerce platform, you may incur high maintenance and upgrade expenses, some of which may not be immediately apparent to you when you start. Talk to your eCommerce development company about the specific charges you may incur and how often you anticipate these.  Ask if any additional fees, such as costly upgrades and pay-per-use models, are applicable.
#8. Hosting and platform ownership
Most eCommerce platforms include hosting as part of their offer. Make sure you are familiar with the specifics of the process of hosting a platform. To protect your sales, revenue, and brand reputation, ensure it is secure and dependable. Verify the quality of their technical assistance.  Also, try to clear up some questions, such as:
Is hosting always available?
Are there many support levels at various price points?
What do current users have to say about their support?
#9. SEO friendliness 
Customers  should easily find your store when looking for certain products or services. It's always crucial to improve your search engine ranking. Holding a custom domain, including blog with up-to-date content, and – most importantly – enabling user reviews are three simple strategies to improve SEO. It not only enhances your rating but also strengthen your brand and ties to your audience. Choose a platform that enables you to perform each of these tasks.
#10. Order management system 
Every eCommerce website's foundation is its management systems, which set them apart from other websites and give them its own identity. Gathering orders and managing them is a difficult task.
This work is made more straightforward for you with a competent eCommerce platform. while choosing the eCommerce platform, make sure that it enables functionalities like order management and several others.
The order management system is responsible for handling customer orders. It should have order tracking, email notifications, and shipping service APO to complete many operations quickly.
#11. Personalization
Personalization is a key element used by many globally successful eCommerce businesses. By suggesting products that customers find interesting based on their past purchases and browsing history, you can give your customers a genuinely personalized shopping experience.
#12. Store functionality and ease of use 
Your website serves as both initial visual impression that customers get your company and its level of success. They'll leave if they are unhappy with how it appears or find it challenging to browse. It's that straightforward!
Choose a platform you can use to design (such as an easy-to-use drag-and-drop editor), product management system, and set up your store. Additionally, choose a platform that offers you a large selection of distinctive templates that can capture the essence of your business and enhance your website's UX design.
Conclusion
Consider every choice you make when selecting the best eCommerce platform from the user's perspective. This will allow you to provide the users with the ideal purchasing experience and showcase your business as a desirable brand in the industry.
Although there are many other aspects to consider, we only list the most prevalent ones. It may not always be simple to quantify certain factors. To get the best response, consider contacting a top-notch eCommerce web development company that can assist you with the process of conceptualizing your company's needs in terms of the eCommerce ecosystem.
Next Steps: 
Feel free to contact us if you still have questions about choosing the right eCommerce platform. With over 15 years of experience in eCommerce development, our experts always have a few helpful suggestions for you.
Email us at sales@analytix.com or call 781.503.9000 today.
Follow our blog for industry trends and the latest updates.