As businesses explore newer ways to succeed, grow, or even thrive sustainably in an uncertain economic landscape, cloud computing is fast proving to be a solution of choice. Here are some ways in which adopting the cloud can bring about digital transformation within businesses.
• Keeping up with innovation consistently
• Helping keep pace with growing needs
• Drive cost and time efficiencies
• Drive adaptability, scalability, and agility
• Drive streamlined operations and efficiencies on an overall basis
Types of cloud computing
The type of cloud adopted will depend on the business requirements and needs. There are several different types of clouds available.
• Software-as-a-Service or SaaS: In this case, third-party cloud providers host software applications, and businesses can access them as and when needed.
• Infrastructure-as-a-Service or IaaS: IaaS allows businesses to access software and hardware, operating systems, and even databases securely and reliably from third-party providers.
• Platform-as-a-Service or PaaS: This enables businesses to access vital resources, including storage, network space, dedicated servers, etc.
Bringing in digital transformation
Cloud computing, when deployed effectively, has the potential to transform business in terms of operations, client expectations, and better performance. Cloud computing also has the potential to answer nearly all challenges that businesses face currently: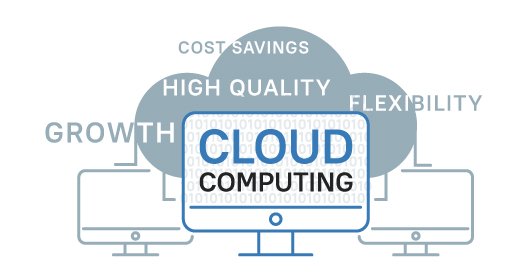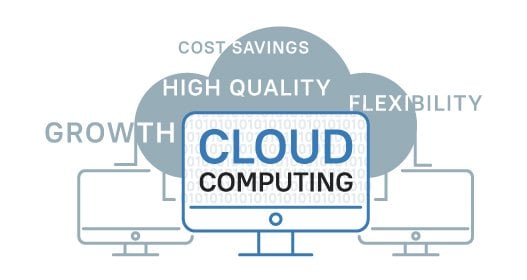 • Ensure business continuity, including in the face of worker attrition
• Ensuring enhanced accuracy despite reduced manpower at work
• Helping businesses meet timelines as required
• Helping deliver high-performances and meet client expectations
• Streamline overall operations without compromising on any other element, accuracy, reduced costs, and enhanced operations
• Help strengthen strategic plans, help build the competitive edge, boosting business bottom-line eventually
Deploying cloud computing for business operations can help businesses bring in digital transformation by channelizing multiple benefits:
| | |
| --- | --- |
| Enhanced flexibility | Infrastructure to support business operations regardless of physical premises or device dependencies. |
| Better security | Data and information belonging to the business and its customers benefit from encryption, passwords, and measures like authorized access. |
| Reduced expenses | Cost efficiencies can be better noticed when cloud deployment is done with professional assistance. Outsourced partnerships and assistance enable businesses to access resources in real-time without the need for time or capital investment. |
| Extended capabilities | Cloud computing offers the advantage of extended capabilities. This is through improving efficiencies, reduced timelines, and better execution of functions. |
| Improved Quality | Overall, business operations, functions, and capabilities receive a boost. Adherence to timelines improves, and extended capabilities enable businesses to add value. |
Choosing the Hybrid Cloud
As the name suggests, hybrid cloud combines the benefits of public and private cloud to enhance cloud offerings. This includes a faster delivery time of applications, advantages of on-premises systems, if any, and external cloud solutions in a synergized manner. Microsoft Azure is one cloud platform that enables businesses to manage private and public cloud.
Why choose professional assistance for migrating to the cloud?
Cloud computing has the potential to map speedy growth trajectories for businesses. When deployed correctly, cloud computing can help businesses achieve enormous growth quickly.
Next Steps
● Learn more about the benefits of professionally-managed Cloud services and how we can help boost business profitability for you.
● Email us at sales@analytix.com or call us on 781.503.9002 today.
● Follow our blog for industry trends and the latest updates.
● Engage with us on LinkedIn and Twitter.