Modern businesses rely heavily on technology to keep their operations running smoothly. However, the scale and complexity of the systems in place can often overwhelm internal IT teams. This is where managed service providers (MSPs) come into play.
Who are Managed Service Providers?
Managed Service Providers (MSPs) are organizations specializing in supervising a client's IT infrastructure and end-user systems, typically under a subscription model. They provide many services, such as data backup and recovery, network monitoring, system security, and software support. Leveraging an MSP can be one of the most effective ways to support small businesses by allowing them enough time to concentrate on their central operations, thereby ensuring that their technological requirements are aptly met.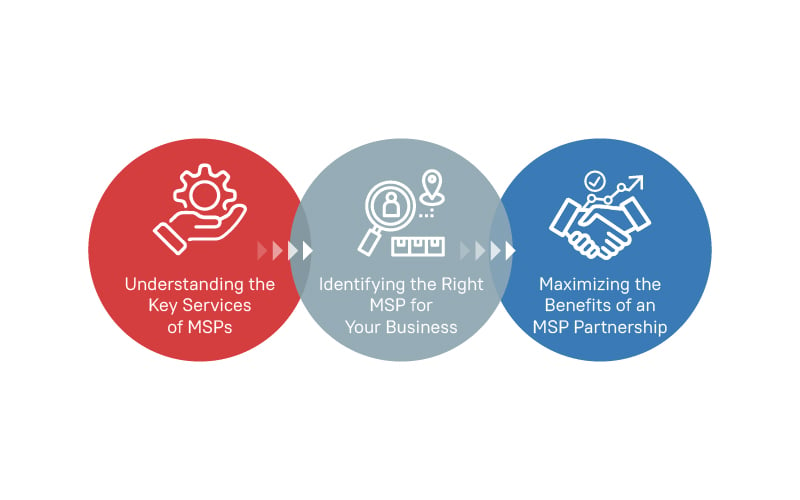 Understanding the Key Services of MSPs
MSPs offer a variety of services that boost your business technology. These services include managing a company's network, servers, and devices, safeguarding cybersecurity, providing data backup and recovery services, and offering technical support. By delegating these responsibilities to an MSP, businesses can utilize their expert knowledge and state-of-the-art technologies, which serve as powerful ways to improve business operations, and at a fraction of the cost of an in-house team.
The Role of MSPs in Business Growth
MSPs offer expert IT support, which allows businesses more time and resources to focus on their core competencies.
They facilitate innovation by helping businesses overcome technical challenges.
MSPs provide robust cybersecurity measures that protect businesses from security threats and data breaches.
They offer scalability by empowering businesses to adapt their IT infrastructure to match business growth.
MSPs can significantly improve the efficiency of a business by ensuring its IT systems run smoothly and effectively.
MSPs can help significantly improve business productivity by providing reliable and efficient IT systems.
MSPs allow businesses to focus on strategic initiatives, which lead to accelerated business growth.
They offer specialized IT knowledge and expertise that may not be available in-house.
MSPs help businesses stay updated with the latest technology trends and innovations, thereby ensuring they remain competitive.
Through proactive management and maintenance of IT systems, MSPs help prevent potential IT issues, thereby minimizing downtime and business disruptions.
Identifying the Right MSP for Your Business
Choosing the right MSP is critical. The provider you choose should always align with your business objectives and offer services tailored to your specific needs.
Look for an MSP that offers a comprehensive range of services, has a good reputation, and has extensive experience in your industry.
You should also consider the MSP's customer service and the terms of their service-level agreements.
Also, ask for references to gain confidence in your decision.
Maximizing the Benefits of an MSP Partnership
To gain the maximum benefits from an MSP partnership, it's critical to establish transparent communication channels and regularly assess performance metrics.
Involving the MSP in strategic planning can be highly beneficial, as their expert advice can play an instrumental role in aligning your IT strategy with your business goals.
This cooperative approach can uncover innovative ways to improve your business and thereby reinforce the importance of such a partnership.
Conclusion
The role of MSPs is more than just outsourced IT support. An MSP can serve as a strategic partner, offer ways to support small businesses, improve your business technology, and help you navigate the complex world of IT. Investing in a reliable MSP partnership is one of the most impactful ways to improve your business and ensure sustainable long-term growth.
Next Steps
Are you looking for a reliable and experienced managed service provider? Analytix Solutions provides expert services with 24 x 7 support and quick turnaround times. If you want to learn more, contact us today!
Email us at sales@analytix.com or call 781.503.9003 today.
Follow our blog for industry trends and the latest updates.