As small businesses begin to embrace digital transformation in the "new normal," a website emerges as a key element for businesses to stay successful. An aesthetically designed and responsive website is critical in creating meaningful customer experiences. With the web development industry fast evolving to meet the demands of the "new normal," CIOs need to stay updated with the latest emerging web development trends to stay competitive. The following trends in web development trends are important in 2020:
Progressive Web Apps (PWAs)
Considered by Google as the future of the mobile web, PWA is a website that uses emerging web technology and adds technologies incrementally to enhance and deliver native-app like experience on the web. With more than half of web traffic coming from mobile devices, consumers expect mobile experiences to be fluid, reliable, engaging, and secure. PWAs are based on the framework of FIRE: Fast, Installable, Reliable, and Engaging. This allows a seamless interface for mobile, tablet, and desktop applications. PWAs score high not only in terms of user experience, but also in speed of access and load time, regardless of a poor network or limitations of the browser.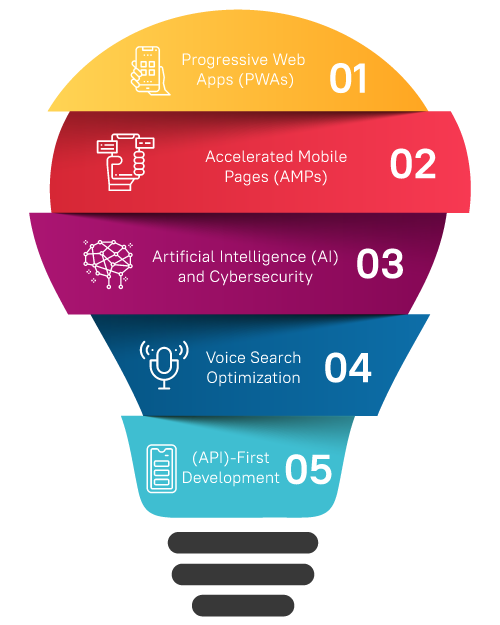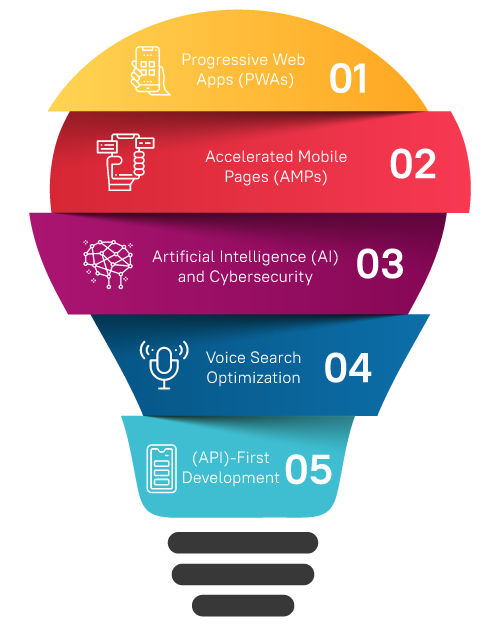 Accelerated Mobile Pages (AMPs)
A fast website is key to delivering a better user experience. AMP is an open-source initiative that aims to make sites fast and aesthetically pleasing on every screen. Designed to be mobile friendly and make web pages fast, AMP works across many device types, including desktops and tablets. AMP is a constantly evolving technology and presently allows design customization and interactive experiences. AMP enables the creation of fast, high-performance websites that give users a cross-platform experience. AMP offers faster load time, lower bounce rate, higher website performance, and enhanced mobile search engine optimization.
Artificial Intelligence (AI) and Cybersecurity
AI in cybersecurity is one of the biggest web development trends this year. The surge in cyberattacks and data breaches has made it imperative to have robust data protection measures, using emerging technologies like AI for enhanced cybersecurity. There aren't enough cybersecurity professionals and as cyberattacks from bots grow more diverse, human response alone is not sufficient. Websites must incorporate AI and machine learning (ML) to fill the gap for building an understanding of the website traffic. This helps in quickly identifying potential threats and responding with confidence and speed.
Voice Search Optimization
According to Adobe, 48% of consumers use voice for general web searches and according to Google, it is the fastest-growing form of online search. Voice search enhances user experience by delivering accurate search results. It is a key reason Google has begun emphasizing voice search optimization. The Gartner report highlights that 32% of U.S. consumers are interested in hands-free technology to limit touching or contamination. Given the fact that 55% of users do voice search to ask questions on a smartphone, voice search is quickly becoming the most popular way of searching. Fortunately, if voice search optimization isn't a part of your strategy yet, integrating voice search to your website can be a huge advantage.
Application Programming Interface (API)-First Development
People are consuming data through different applications and from different devices, such as smart home devices, smartphones, tablets, wearables, driverless cars, and other interconnected devices. A business should ensure that its website is prepared for integration with intelligent systems and devices to offer a seamless experience. This is made possible by API-First development, which allows developers to break down capabilities into microservices to deliver an enhanced user experience. This demands a change from the time-consuming traditional approach of developing the website first and then adding in the appropriate API. In the API-First development approach, a developer starts with the appropriate APIs and then builds the website on top. This saves time and streamlines the development process.
Conclusion
Regardless of whether you are a small business owner struggling within a budget or a large enterprise with the financial means to create a robust website, Analytix IT has the right solution for everyone. Analytix's step by step web development process evolves through time according to business requirements to make it business-functional. Our web development attains the goal of rendering immersive experiences on the web, laptop, desktop, tablet, and mobile.
Next Steps