Businesses are increasingly adopting cloud solutions as technology has significantly transformed how online business is conducted. Even large and successful companies have changed the way they conduct business. Using the appropriate cloud solution helps fulfill your company's goal and growth objectives to stay current and ahead of the competition.
Cloud solutions can be quickly adapted to organizational changes. These can become potent tools for flexibility and scalability. However, it may be challenging to choose the right cloud solution that best matches your needs. Several cloud solution providers often vie for attention by claiming to be the best on the market.  This blog contains some essential tips to help you choose the right cloud solution for your business!
Why is it Important to Choose the Right Cloud Solution for your business?
According to a 2021 report from Gartner, global end-user expenditures on cloud solutions totaled $270 billion in 2020 and is projected to increase to $332.3 billion in the coming years. Factors such as network scalability, accessibility, efficiency, and security represent the key responsibility of your cloud solutions provider. Your online business could suffer immensely if your cloud solution provider fails to meet these primary responsibilities. In fact, your cloud provider ideally must meet or even excel in the cloud solutions standards that any provider should have. Let's delve into some of the primary reasons you need to choose the right cloud solution for your business.
#1. Security Breaches Can Cost You Dearly
Many eCommerce sites are often targets of malware and cyberattacks. Every day, scammers hack thousands of online stores. Their primary target is typically private information, including customer profiles, credit card information, and bank account information. You risk losing your customers and your reputation as a business if you fail to protect customer data.
#2. The Cloud Solution Should Be Cost-Effective
When using in-house IT solutions on traditional servers, the hardware must always be scaled to meet the organization's most important needs, even if only a tiny percentage of the capacity is utilized most of the time. Additionally, ongoing expenses such as infrastructure renewal and licenses, maintenance, repairs, and spare components can increase exponentially. When cloud solutions are utilized, these unpredictable maintenance costs are eliminated.
#3. Verify Availability
Contrarily, utilizing cloud solutions guarantees availability. Cloud data centers maintain multiple copies of data across their availability zone in several areas. This means that data can easily be retrieved in the event of a disaster or a system breakdown. This reinforces the customer's loyalty to the business.
How to Choose The Right Cloud Solution? Essential Tips!
Below are some essential tips to help you choose the right cloud solution.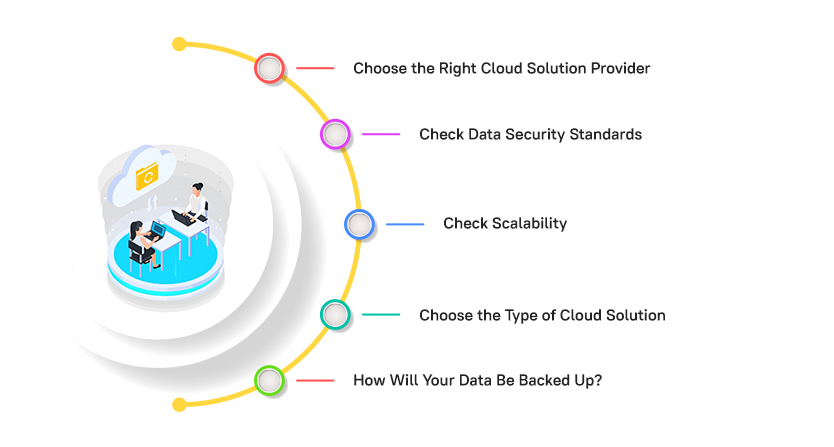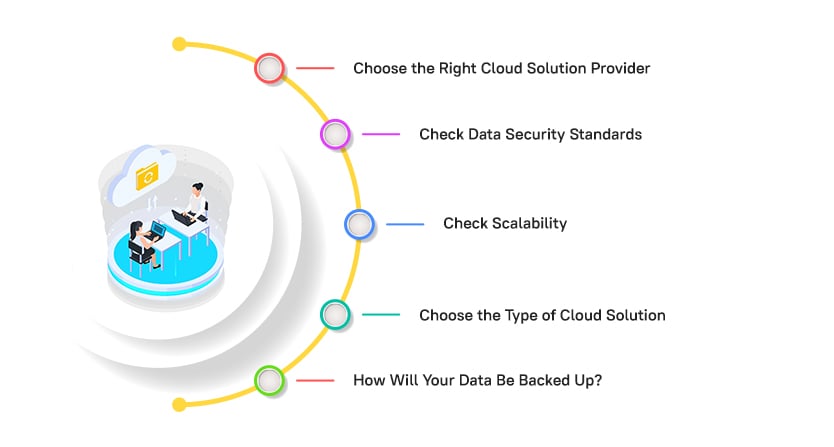 #1. Choose the Right Cloud Solution Provider
The first step in the process of choosing the ideal cloud solution involves partnering with the most efficiently managed IT services. The provider must manage your sensitive data, proof of security, and compliance expertise, such as SOC2 Certification. Also, your business apps should work with the cloud platform and be dependable, secure, managed, and compatible.
Assess the cloud solution provider just as you would evaluate your current IT environment and any potential platforms and solutions. By doing this, you can avoid cost overruns and continue to provide the best possible customer experience.
#2. Consider how your will data be backed up
Make sure the cloud solution you choose has a backup system. This way, in the unlikely event of a system breakdown or unplanned downtime, a backup copy of your files is always available. Your business needs to have a reliable data backup plan. Also, be sure to discuss the provider's disaster recovery plan in detail. If you need to review a previous file version, be sure your chosen provider handles file revisions as well.
#3. Assess the Scalability of the Cloud Solution
Assess the scalability of the cloud solution you are offered in terms of infrastructure, including bandwidth, load balancers, servers, data warehouse, etc.
Additionally, be sure to choose a cloud solution that can scale up and down your system whenever necessary. This reduces the need to change the company's fundamental infrastructure and improves overall organizational capabilities. Making the initial decision to use a highly scalable cloud solution prevents the need to move to an alternative cloud solution later on.
#4. Choose the Most Appropriate Cloud Solution
Depending on the nature of your business, you may need to choose between a hybrid, private, and public cloud solution.
Public Cloud: The public cloud provides a shared ecosystem where hardware, network, and data are stored in the provider's data center, and the provider controls each company's information.
Hybrid Cloud: A hybrid cloud empowers an enterprise to use the private and public cloud. It also refers to mixed computing, storage, and service environments. Agility is the main advantage of a hybrid cloud.
Private Cloud: Services and infrastructure are kept up to date with a private cloud because they are stored on a private network and protected by a firewall. Compared to a public network, they provide more control but at a substantially higher cost.
#5. Consider Data Security
Make sure the cloud solution complies with the necessary certifications and security standards. (viz., ISO 27001, PCI-DSS, etc.). If data localization is crucial, confirm that the cloud solution can store all of the data in the same location.
Regarding choice, Amazon Web Services (AWS) is generally the best place to start setting up cloud computing. Still, it is complex (many services, some of which overlap), while Azure and Google Cloud Platform (GCP) have caught up (by offering more precise access controls via portals).
Conclusion
Making the switch to the cloud can completely transform your business. It is also one of the least expensive methods of managing and protecting your data. You must collaborate with the best-managed IT services to achieve your business objectives. You can rest assured that the right cloud solution will most adequately meet your needs if you follow the advice provided in this blog.
To conclude, we hope this blog has helped guide you through the process choosing the best cloud solution for your business!
Next Steps
If you need any further assistance in choosing the best cloud solution or looking for outsourced cloud solutions, we can help.
We are a leading eCommerce development services provider with 15+ years of experience with all the leading technologies.
Email us at sales@analytix.com or call 781.503.9002 today. 
Follow our blog for industry trends and the latest updates.