WooCommerce is unquestionably a robust eCommerce platform. But to increase its functionality and create a fully functional eCommerce store, you require some of the best WooCommerce plugins available today.  Online store owners can expand their website's functionality with plugins without considerable coding knowledge. You can easily install and configure plugins for your eCommerce store with just a few clicks. 
Some of the top WooCommerce plugins available this year can assist you with raising conversion rates and increasing sales. With so many options available, selecting plugins could be tricky.  Don't worry. We can help! To help you optimize your online business, we'll discuss eight of the best WooCommerce plugins in this blog. These plugins will make it simpler to handle your store and assist you in boosting your sales revenue. 
WooCommerce Plugins: A Quick Overview!
WooCommerce is one of the most popular eCommerce platforms. With the help of plugins, you can build different websites, including online markets, membership websites, and directories. These are also known as extensions or add-ons. Every kind of business has unique requirements that need unique integration. 
The best WooCommerce plugins allow owners to include new features designed to improve the customer's front-end user experience. You can also offer more features to the backend to improve the efficiency of your business's daily operations. 
Currently, WooCommerce offers hundreds of plugins that can help you extend the functionality of your eCommerce website. Additionally, top WooCommerce plugins help make your site worthwhile. Focus on the plugins that will provide your customers with the best experience, keep them interested so they come back to your website and make it simple for you to maintain it.  Moving ahead, let's discuss eCommerce WooCommerce plugins for 2023.
Top 8 WooCommerce plugins for 2023: 
Now that you know the importance of plugins, here is a list of the top-rated and most reliable plugins for setting up your WooCommerce store. Take a look!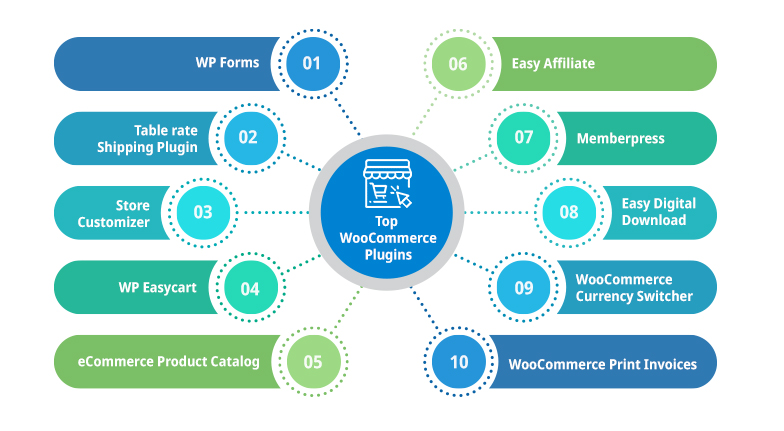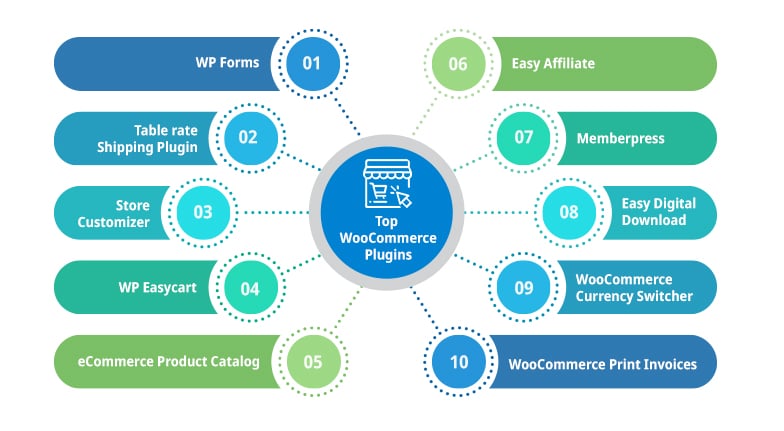 #1. WPForms 
A contact form is vital for every website. The best drag-and-drop form builder plugin is WPForms. WPForms provides all the necessary functionality and enables you to design a straightforward contact form. You can create any form with it, including polls, contact forms, online surveys, and many more.  Additionally, it has extensive functionalities you can leverage to significantly increase your form conversions, such as form landing pages, conversational forms, form abandonment, smart conditional logic, etc. 
#2. Table Rate Shipping Plugin
The Table Rate Shipping Plugin makes it simple for websites owner to establish and manage shipping rates depending on several criteria, like delivery location, quantity, product weight, product price, etc.
Businesses can use this plugin to take advantage of fully customized shipping options and the default WooCommerce shipping settings. When using the table rate shipping plugin, you can configure several shipping criteria for your consumers, which allows them to select the best alternatives based on their requirements whenever they order something on your site. There are more than 15 distinct parameters you can use to set delivery charges. Before a customer selects a shipping method, you can also display the terms and conditions of each shipping option.
#3. eCommerce Product Catalog
The eCommerce product catalog plugin is an effective method for maintaining and organizing your product pages. You can use it to make more than just sleek, attractive product pages. Additionally, it makes these pages very user-friendly and responsive. You can easily organize your products using the plugin's many categories, tags, filters, and catalogs. Your customers will navigate your product pages quickly and effortlessly by using this functionality. A product search panel can also add to your page to guarantee a positive online shopping experience every time.
#4. Easy Digital Download
Easy digital download is a comprehensive plugin for eCommerce vendors who wish to offer digital products on their sites. All types of digital products, including software, spreadsheets, documents, photos, music, eBooks, and many more, can be sold. It has powerful features like flexible payment options, coupon codes, complete customer administration, security, etc. Also, with just a few clicks, you can password-protect your files, use reCAPTCHA to stop spam, and keep track of buyer information like date, time, and purchasing history with a dedicated dashboard.
#5. WP EasyCart
The powerful eCommerce plugin WP EasyCart makes it easy to incorporate a shopping cart into any online store. It supports several languages, a range of payment methods, and a portal for coupons and promotions. You may develop a platform to sell theoretically infinite quantities of products and manage orders with all required shipping and tax procedures integrated, among other noteworthy features, by using this plugin. All these features are accessible free of charge, though you can upgrade to the premium version to gain access to more advanced functionalities.
#6. MemberPress
Among the most widely used and functional plugins for building membership sites is MemberPress. Like many other plugins, it doesn't have a free version, but it still has all the features you'll need to develop a membership website that works flawlessly. Thanks to this plugin, managing your content will be a breeze for you. Specific posts, pages, or files can have access restrictions placed on them.
#7. Easy Affiliate
By using the Easy Affiliate plugin, you may generate revenue for your small business through referral marketing. It is essential, inexpensive, and effective. It is suitable for usage on both membership websites and online shops. Your clicks, sales, payments, and other activities can be tracked and managed using the Easy Affiliate plugin. It's a simple-to-use plugin that doesn't require coding changes.
#8. Store customizer
With the help of the free Store Customizer plugin, you can alter and personalize your WooCommerce store, product and checkout pages, and user account page. The consumer experience will be improved, and you'll be able to distinguish yourself from your rivals by customizing your product pages and providing more information. 
#9.  WooCommerce print invoices
For handling invoices, packing lists, and picking lists in your WooCommerce store, the WooCommerce Print Invoice & packing list plugin is the best option. While modifying orders and printing documents for orders directly from the orders page (individual or in bulk), this plugin also lets customers examine invoices. Additionally, you can use this plugin to alter the text that appears on these papers. This  includes business information, including return policy, making it easier to share this information with your customers.
Bonus: WooCommerce currency switcher
It's essential to offer currency conversions if you run an online store. Admittedly, enabling customers to view your products in their local currency will help them feel more at ease regardless of what country they currently reside in.   With the help of this useful plugin, you can change product pricing and see real-time currency conversions. Some helpful features, such as widgets and short codes, let you specify where currencies should be shown. 
Conclusion  
WooCommerce is one of the most popular eCommerce platforms today. However, you may build a successful online store by combining it with some of the other incredible plugins that others have developed to optimize its capabilities. This ends our list of top WooCommerce plugins that will benefit most online stores.  We obviously can't cover every useful plugin, as thousands of plugins are currently available. However, we hope you were able to learn more about some of the top WooCommerce plugins for your online store through this blog. 
Next Steps