eCommerce businesses that sell products online exclusively rely on their digital presence for growth. Ultimately, their website is the central hub for customers to connect with and buy from a brand. Therefore, you must construct a Shopify storefront that maximizes website conversions and gets your audience to complete a desired action, like a purchase.
Using the proper design practices, your Shopify store can become a high-converting eCommerce website that offers customers a positive and unique shopping experience. You can boost new customer sales while maintaining brand loyalty through seamless navigation, compelling content, and clear proof of product value.
Here's how to build a trusted Shopify store that converts into product purchases, returning customers, and brand recommendations.
Shopify Explained
Shopify is a popular eCommerce platform that provides a seamless channel through which small businesses can sell their products. It's an all-in-one solution that lets you build and manage an online store, track inventory, process orders and payments, and boost website traffic through search engine optimization (SEO), branding, and marketing tools.
Shopify lets you centralize eCommerce activities into one platform by offering built-in features and third-party integrations such as social media sites, accounting software, and other eCommerce platforms. This high level of connectivity allows businesses to manage all components of an online store while keeping their product, sales, and marketing data synchronized and up to date.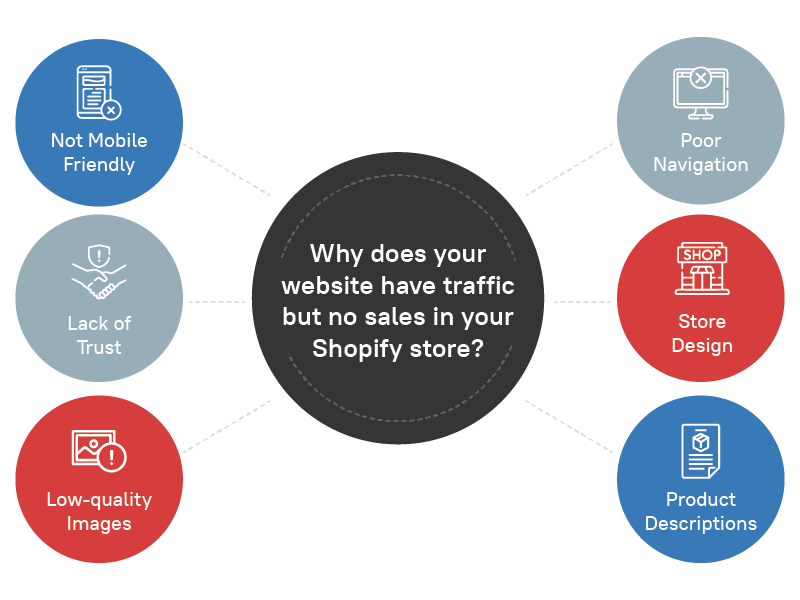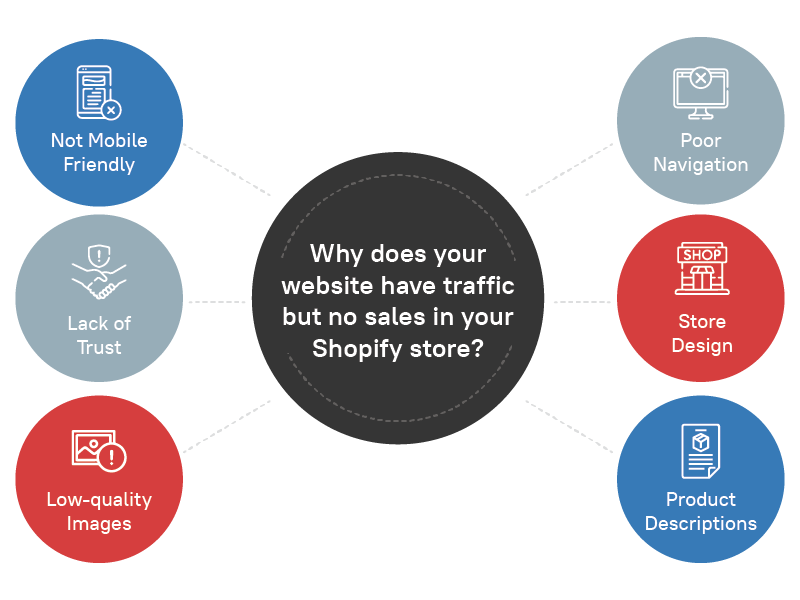 Understanding Your Target Audience
Whether you're using Shopify, other eCommerce websites, or all of the above, you cannot succeed without knowing your customer base. More specifically, you need to understand your audience's behaviors and preferences.
Customer attributes such as demographics (gender, age, income, etc.), websites where they most frequently search for product information, preferred communication channels, and what factors most influence their purchase decisions all dictate how you undergo web development. Those traits help you design the website's copy and product descriptions, imagery, navigation system, and other elements that build trust and boost your brand perception.
Best Practices For Designing an eCommerce Website With Shopify
During Shopify website development, you can follow these best practices for creating a high-converting eCommerce store:
Provide a seamless customer experience
Customer experience is a key factor impacting brand trust, which often leads to product purchases. Customers can have a more enjoyable shopping experience while browsing your Shopify store if you make it pleasant for them to learn about your product offerings and checkout. Website navigation and content delivery are essential to this process; These two aspects of customer experience include:
● Clear and immediate calls to action (CTA) such as "Add to Cart" or "Buy Now" at the top of all pages
● Concise but engaging copy for product descriptions and web pages
● An intuitively designed menu that makes it simple to navigate and does not overwhelm the user with too many button options
● Smart use of compelling visual content like videos and product images that can say more with less
● Optimized web pages that load quickly and respond effectively to web and mobile interfaces
Shopify offers many features for maintaining these website elements, such as content A/B testing and mobile and website performance tools.
Leverage Customer Reviews as Social Proof
Customer reviews allow the results of your product to speak for themselves. It builds trust through tangible proof that you provide value to your customers. You can do this through testimonial sections on your product pages and tons of images that visually reflect customer value, such as pictures or videos.
Shopify also has embedding features that let small businesses post real-time online reviews on web pages. You can do this for products your business advertises on popular sites like Facebook, Amazon, and Google reviews.
Establish a Strong Brand Identity
A brand identity is how an eCommerce business presents itself to customers. You can use a high-quality logo and imagery through a consistent color palette on your website to give your brand some structure. Maintaining the same writing style and tone in your copy on web pages and during marketing campaigns is also essential to give your business a recognizable persona.
Shopify includes native tools for its users to help generate logos, design, and maintain brand palettes, and write compelling copy that is consistent in voice and messaging through artificial intelligence (AI) tools like ChatGPT.
Implementing Effective Product Pages
Solid product pages supplemented with effective marketing campaigns are crucial to driving web traffic and increasing conversions. A quality product page that uses clear, well-written copy and visual elements to clearly outline features, value, pricing, and next steps, makes it easy for an audience to make a buying decision.
If you combine these steps with robust marketing strategies that generate traffic to those product pages, you can quickly find yourself receiving tons of purchase orders. Through targeted email, ad, social media, and referral marketing campaigns, you can ensure your website produces traffic and converts those visitors into recurring paying customers who are excited to recommend you.
Build an Online Store That Thrives
Building a high-converting eCommerce website with Shopify is the main catalyst for generating and maintaining customers. Our team at Analytix Solutions offers a range of web development, system integration, and back-end business support services to help your online store thrive. Call us at 781-503-9000 or email us at sales@analytix.com today to schedule an appointment with one of our experts.