In today's business, data and technology are two critical elements. Due to reliance on modern technologies, IT is now a key performance indicator in almost all industries and verticals. Many technology tools have, however, become unnecessarily complex and dynamic to provide greater business value.
As a result, many internal IT teams now frequently struggle with the process of managing digital systems. Therefore, increasingly tech-heavy businesses are turning to managed IT service providers for IT outsourcing services.
With managed IT services, you can avoid the risks associated with security breaches, poor IT infrastructure management, and total business blackouts.
However, what exactly does "managed IT services" mean, and what can they do for your business? Let's explore managed IT services' fundamentals and their benefits for modern businesses.
What are managed IT services?
A managed IT service is a third-party service that helps with the development and management of an organization's IT infrastructure. They are sometimes known as outsourced IT services or MSPs (managed service providers). MSPs handle the remote management of services like cybersecurity, backup recovery, and much more.
According to many reports, the market for managed IT services is projected to grow to $282 billion by 2023. Additionally, North America has the largest market for managed services. MSPs provide reporting services, manage your IT infrastructure, and provide IT consultancy, thus allowing you to focus on increasing revenue and be more effective.
How can your business benefit through managed IT services?
Here are some business benefits of managed IT services: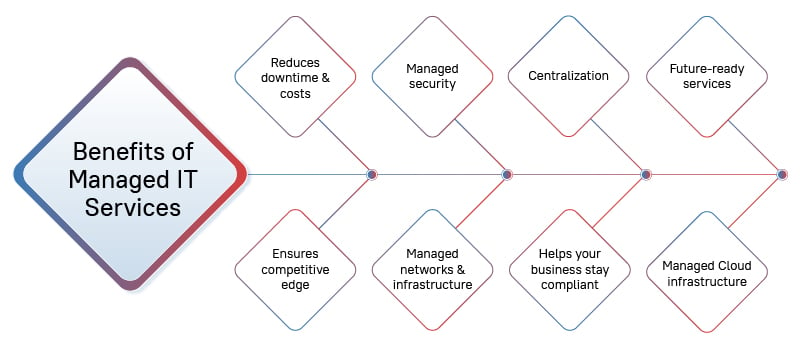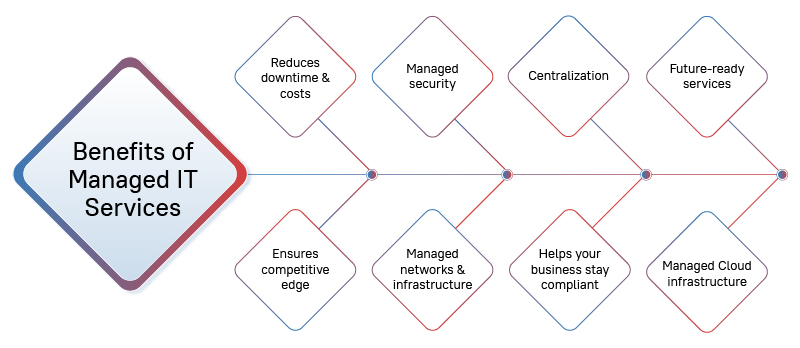 #1. Reduces Downtime & Costs
Even a brief downtime can cost a company a significant amount of money, especially if it directly affects consumers. Businesses have access to round-the-clock monitoring, so they are always up and running with a professional team at their disposal.
Additionally, your systems can be streamlined and organized with the help of managed IT services, which can help you save money in the long run without compromising on quality.
#2. Managed Security
Businesses must use every layer of security they can provide regarding customer data. Network security entails tedious but crucial analyses of your company's network, devices, and users to find everything from suspicious activity to accidental viral access points that could damage your data and operations. Contracting MSP security solutions is the most innovative and modern course of action to take in cases where businesses lack the resources to ensure their network is secure.
MSPs can plan data backups, control backup gear, test backup restores, and provide preventive ransomware and malware solutions. Cybercriminals frequently prey on business owners who try to cut costs on cybersecurity initiatives.
#3. Managed networks & infrastructure
Most network-related tasks, such as IP VPNs, LANs, and WAPs, will be handled by managed networks and infrastructure MSP. They will also manage backups and storage alternatives. Businesses that require high-performance, secure, and economic networking are the most excellent fit for this service.
#4. Helps to stay compliant.
Businesses can always rely on solid performance and outcomes with managed services providers, given the fact that their professionals are responsible for every service performed within the systems.
Managed services may also help your business stay in compliance with constantly changing legal regulations. If you work in the healthcare industry, this is very crucial. It's challenging to keep up with compliance laws because they frequently change across several industries. An expert-managed IT services team will typically be aware of all laws and regulations. As businesses increasingly operate worldwide, compliance with such laws is more critical than ever.
#5. Managed cloud infrastructure
MSPs use this service to handle the compute, networks, operating systems, and storage for their clients. Additionally, this service may include the platforms, databases, and tools used by the infrastructure. This service is frequently constructed from a series of choices selected by the client.
Models based on the cloud must always be suitable for businesses and their needs. When you work with an MSP like Analytix, you can concentrate on your core business without learning new cloud technologies, hire engineers on a contract or permanent basis, and feel secure knowing that qualified individuals are handling your cloud services.
#6. Centralization
All servers and applications may be consolidated within distributed data centers as part of a managed IT network. This leads to better employee performance both on-site and from remote locations. Centralized data guarantees simple network access to the infrastructure, services, and storage.
#8. Ensures competitive edge
Your managed IT service provider takes care of everything regarding the IT infrastructure at your business's premises or in the cloud. Scalable and cutting-edge solutions will allow you to maximize the benefits of utilizing new technologies. Thanks to managed services, your IT system is always up-to-date, and you can keep up with your competitors by providing the best possible customer service.
Conclusion
Technology fuels modern business. Thus, investing in IT is crucial. Even the most superficial networks require IT support, which means it is, therefore, an essential business function. However, IT support is only occasionally practical for various reasons.
As you can see, managed IT services come in various types and offer several advantages. It's important to choose a tailored, managed IT solution that will ease the workload on your employees, provide a higher quality of service, and help your business achieve its IT goals.
Fortunately, managed IT service providers can provide organizations with the essential infrastructure and different managed services required to keep their data secure and their systems and networks operating efficiently.
Suppose you still need to implement IT support for your company or business. In that case, it's never too late to implement the best industry standards with the help of a trustworthy services provider like Analytix. With our range of managed IT support services, we are proud to serve as one of the top managed IT service providers in the US and help businesses like yours achieve your goals and needs.
Next Steps:
Feel free to contact us if you want to leverage the benefits of Managed IT services. With over 17 years of experience, our experts always have helpful suggestions for you.
Email us at sales@analytix.com or call 781.503.9003 today.
Follow our blog for industry trends and the latest updates.