In recent years, cloud computing has revolutionized the way businesses operate. Cloud computing has allowed businesses to enjoy more efficient data processing by letting them store and access data over the internet rather than on local servers. This technology has led to an increasingly higher number of cloud service providers available, each of which offers various services.
Among these providers, Amazon Web Services (AWS) and Microsoft Azure are two of the most widely used. But with so many options, it can be challenging to determine which service is right for your business. This article will examine the key factors you should consider when choosing between these two popular cloud providers.
AWS: What & Why?
AWS provides various services across multiple industries, including computing, storage, distribution, and other features that help businesses expand and scale. You can build and deploy various apps on this cloud platform by using these services.
AWS is one of the top cloud computing platforms currently in use. Cloud computing platforms offer many different advantages, including fewer administrative burdens, lower charges, and more.
Pros of Using AWS
Scalable, adaptable, and flexible
Little to no data loss is incurred while transferring data from one place to another
Offers very high levels of data security
Provides a range of solutions for building apps and customized solutions
Supports optimal data management and cost reduction for enterprises and autoscaling
Azure: What & Why?
Microsoft Azure is a global cloud computing platform with a customer-centric approach. It provides the resources and assistance you need to create, expand, and manage cloud-based services and applications for your company. Azure was designed for reliable cloud solutions because it offers the best-in-class platform for developing, deploying, and managing apps, services, and infrastructure.
The Pros of Using Azure
Straightforward to learn and use
Rich features and configurable environment for rapid deployment
Hybrid cloud platform Features a cloud-based virtual network
AWS vs. Azure: Key Differences!
Some of the main differences between these two platforms are listed below: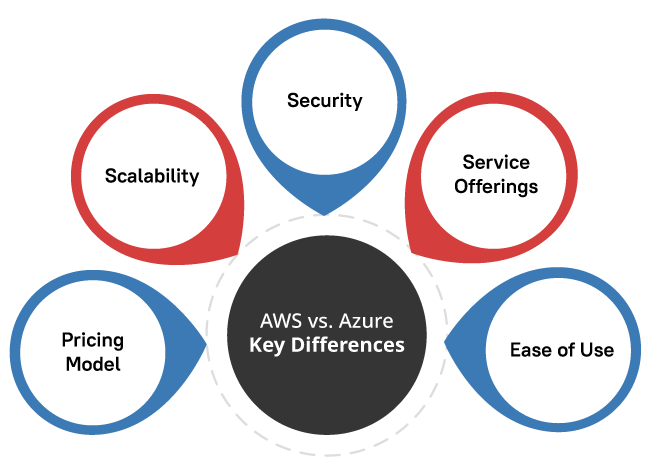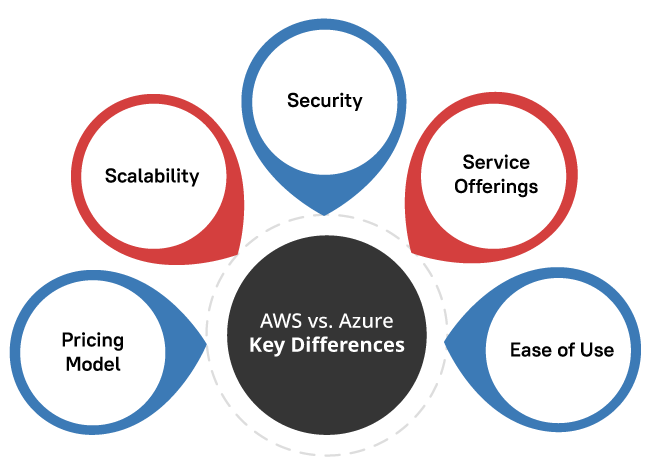 #1. AWS vs. Azure: Pricing
Cost is often the most significant factor in any business decision. AWS offers a "pay-as-you-go" pricing model, meaning that users only pay for the services they use. Azure also offers a "pay-as-you-go" option but also has a range of different pricing tiers. These tiers can benefit businesses with a predictable, relatively steady workload and can allow them to choose a pricing plan that fits their specific needs.
#2. AWS vs. Azure: Ease of Use
AWS and Azure have a range of features and services, but AWS has the edge in terms of user-friendliness. The AWS interface is more straightforward to navigate, which makes it ideal for small businesses that don't have an IT team to manage their cloud services.
#3. AWS vs. Azure: Service Offerings
When it comes to the number of services offered, AWS is the clear winner. AWS offers a broad range of services, including storage, computing, and analytics, and has an extensive network of partners that provide additional services. Azure also provides a wide range of services, but they focus primarily on Microsoft products and services, which can benefit businesses already using Microsoft technologies.
#4. AWS vs. Azure: Security
AWS and Azure offer robust security features, including data encryption and user authentication. However, AWS has more advanced security features, such as identity and access management and auditing tools, which make it a better choice for businesses that prioritize security.
#5. AWS vs. Azure: Scalability
AWS and Azure are highly scalable, meaning they can quickly adapt to business's changing needs. However, AWS has a more established track record in this area, given that it has operated longer than Azure.
Conclusion
Choosing between AWS and Azure depends on your specific needs and budget. If you're looking for a cloud provider with a broad range of services and a simple user interface, AWS may be the better choice.
However, Azure may be the better option if your business relies heavily on Microsoft products and services. Ultimately, the best way to make an informed decision is to evaluate both providers based on the most important criteria for meeting your business's top needs.
Next Steps
We can help you choose between AWS and Azure based on your needs, budget, and other factors. Learn more about our expertise and how we could help your online business profit and flourish even more.
Email us at sales@analytix.com or call 781.503.9000 today.
Follow our blog for industry trends and the latest updates.