Hard Drive – Good storage option but you have to keep it handy all the time. Accessibility is limited.
Cloud Storage – Unlimited storage on demand, secure and guaranteed availability of files all the time. Anyone with internet and permission can connect to Cloud-based applications and access the information.
Entrepreneurs are rapidly adopting Cloud-based solutions for availability, accessibility, and cost-effectiveness. It is a convenient option for businesses to store data.
Cloud computing allows users to view, collaborate, edit, and share files with peers from anywhere. It is one of the safest options to share files and work with peers. (It promotes social distancing too).
Cloud technology is dominating the physical IT infrastructure.
Traditional IT Infrastructure
Traditional IT infrastructure is set up on-premises and has limited resources when compared to Cloud Computing. To securely access data remotely, additional infrastructure investment and configuration is required. This may prevent users from working from remote locations.
Only devices connected to local area networks (LAN) can access files. Users need to rush to the server location to modify files/data in case of emergencies.
One of the biggest drawbacks of a traditional IT infrastructure is the need to fix on-premises servers immediately on downtime to maintain productivity.
Problems with Traditional IT Infrastructure
Slows down online applications on heavy load
Higher infrastructure and hardware management costs
Outdated technology has no trade-in value
Equipment add-ons and upgrades are required
Limited security
No guarantee of accessibility from remote location
Can your business wait until your IT team reaches the office to correct data?
If the answer is no, you have the following two options:
Engage with managed IT services and hire dedicated resources.
Move to Cloud technology.
Cloud Computing
The Cloud computing is flexible for business and personal use. It facilitates unlimited resources for running operating systems to custom applications without usage conditions.
One of the advantages of Cloud Computing is that you can access files or applications in the server down time. The Cloud automatically distributes files on different servers to allow accessibility without revealing sensitive data.
Cloud Computing creates a digital workplace to allow users to work seamlessly on projects.
Benefits of Cloud Computing
Automation – Deploy and test applications directly on the server.
24/7 Accessibility – Connect from any device and access information.
Scalability – Increase or decrease resources on-demand.
Maximum Data Security – End-to-end encryption.
Unlimited Storage – No need to buy extra hard drives.
No Infrastructure Cost – Applications and files are managed in remote locations.
Backup Options – Cloud technologies allow you to set multiple backup options on multiple servers.
Limited and Unlimited Control – Total control over who can access files.
Collaboration – Connect with peers and work on the same files without disturbing the work environment.
Are you looking for a better way to migrate to Cloud Computing?
Here is how you can make your decision.
1. Start by reviewing the types of Cloud Computing and choose the one that fits your needs.
2. Select the types of Cloud Computing services you require.
3. Connect with a reputable Cloud Managed Services provider.
1. Types of Cloud Computing
Public Clouds – Cloud IT infrastructure provided by third parties. The leading service providers are AWS, Google Cloud, Microsoft Azure, Alibaba Cloud, and IBM Cloud.

Pay per use
Community support
Newest technology
Continuous updates
Readily available loud experts
A good option for all types of businesses

Private Clouds – Set up a Cloud infrastructure at your secure premises for your own company. You will have complete control over the Cloud environment and its policies.

Managed by internal or outsourcing partner
Dedicated Cloud
Costly when compared to public Cloud

Hybrid Clouds – Combining multiple IT resources (private and public Cloud) on-premises to promote and enable the seamlessness of the business process.

Scale resources when required
Adds more security
Better management options

Multi-Cloud – Utilizing multiple Cloud services from more than one facilitator (public or private Cloud) to control the flow of sensitive data and maintain storage space to ensure backup. Each Cloud in a Multi-Cloud structure has its own role. Clouds are not connected.

Advanced level of security
Suitable for enterprises
Higher performance
Hybrid data can be stored in Multi-Clouds.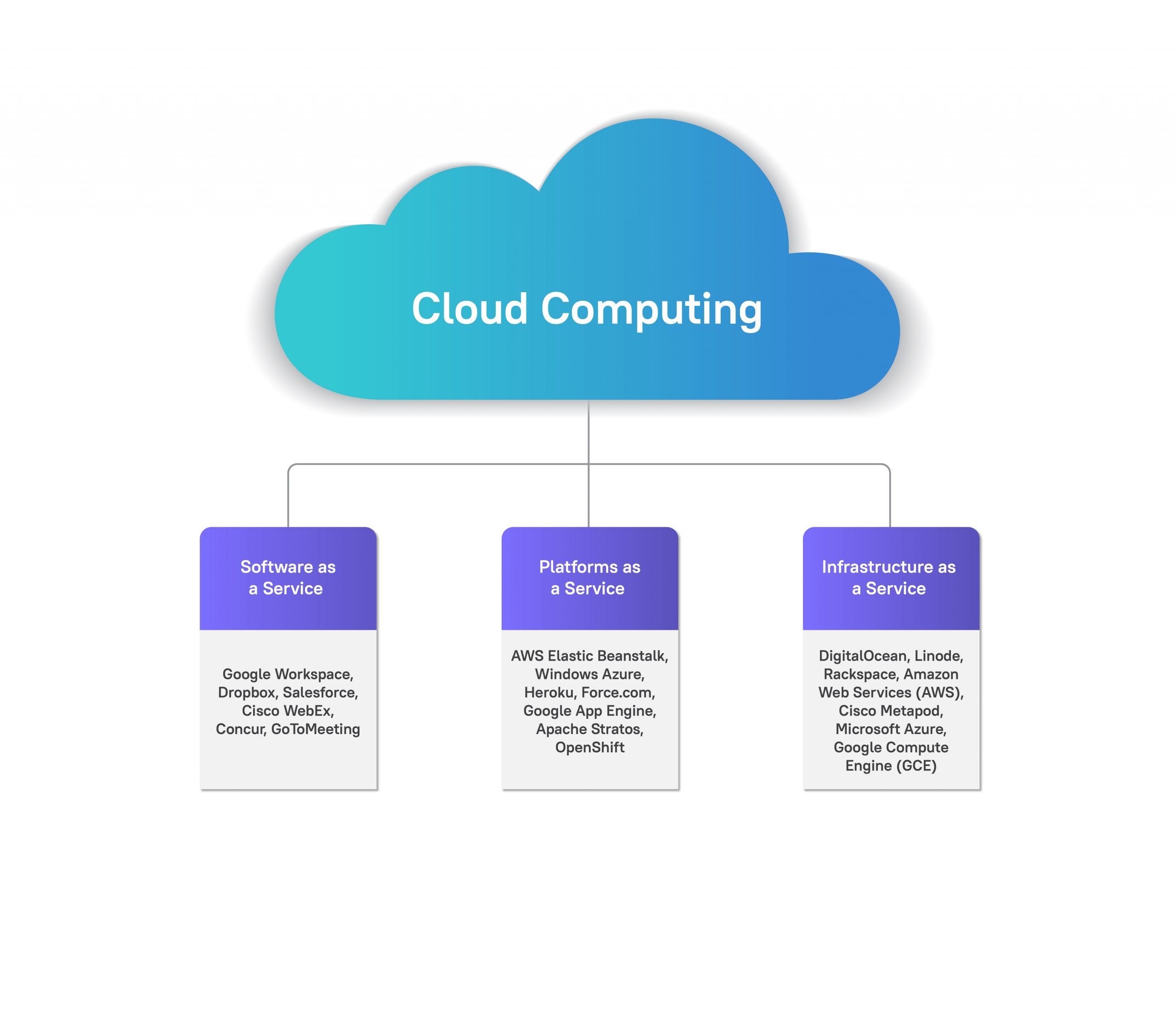 2. Types of Cloud Computing Services
Platforms-as-a-Service (PaaS) – If you want to develop a custom application without investing money in an IT infrastructure, opt for PaaS. PaaS provides a Cloud platform with all the resources you need to develop an application.
PaaS providers allow you to develop and manage an application on their platform. You will have total control and privacy.
Requirements
Consultant
Developers and programmers
Application Designer
Software-as-a-Service (SaaS) – SaaS allows you to use the Cloud-based application to manage your business. Applications like Google Workspace, Salesforce, or Dropbox are pre-built for end users. These types of applications have high-end features to automate business.  You can use them as per organization requirements.
Benefits
Automates business
Minimal subscription fee
Enabled support and maintenance
Infrastructure-as-a-Service (IaaS) – With IaaS, all technical operations (operating system, hardware, storage, networking, internet, servers, VPN, etc.) are handled by the service provider. You can rent the Cloud Platform to run your business. IaaS is responsible for the deployment and maintenance.
Advantages
Rent the required resource and services
Great customer support
Cost-effective Cloud solution
3. To get started with Cloud deployment, work with a Cloud architect to plan the migration. It is a crucial part when you are moving from one technology to another.
A strategic business partner can help guide your r managed Cloud services plan. A partner can guide you in implementing Cloud options in your business.
If you do not plan your migration, you run the risk of damaging your business data.
Next Steps