Digitalization is the new strategy for growing business and enhancing productivity. From customer engagement to business management, everything is done online.
To yield higher profit online, ensure your business has significant online availability. It is the only crucial factor allowing your company to connect with clients.
Do you want to keep up with the latest technology trends without investing huge amounts?
Opt for IT managed services.
Managed IT services make sure that your business is has 24/7 online availability and provide you all the IT support you need to compete in the market. Managed IT services look after your application development, servers, networks, testing, quality assurance, CRM, digital workplace, and customer support.
Successful implementation of IT managed services can reduce IT investment by 40%. With this, you are boosting work performance and management capabilities. You just have to focus on growing your business and let your IT managed services provider do the technical work.
One of the biggest advantages of IT managed services is the help it provides to your business to stay updated with technology trends without any extra cost. Updated technology is the power to stay ahead in the competition.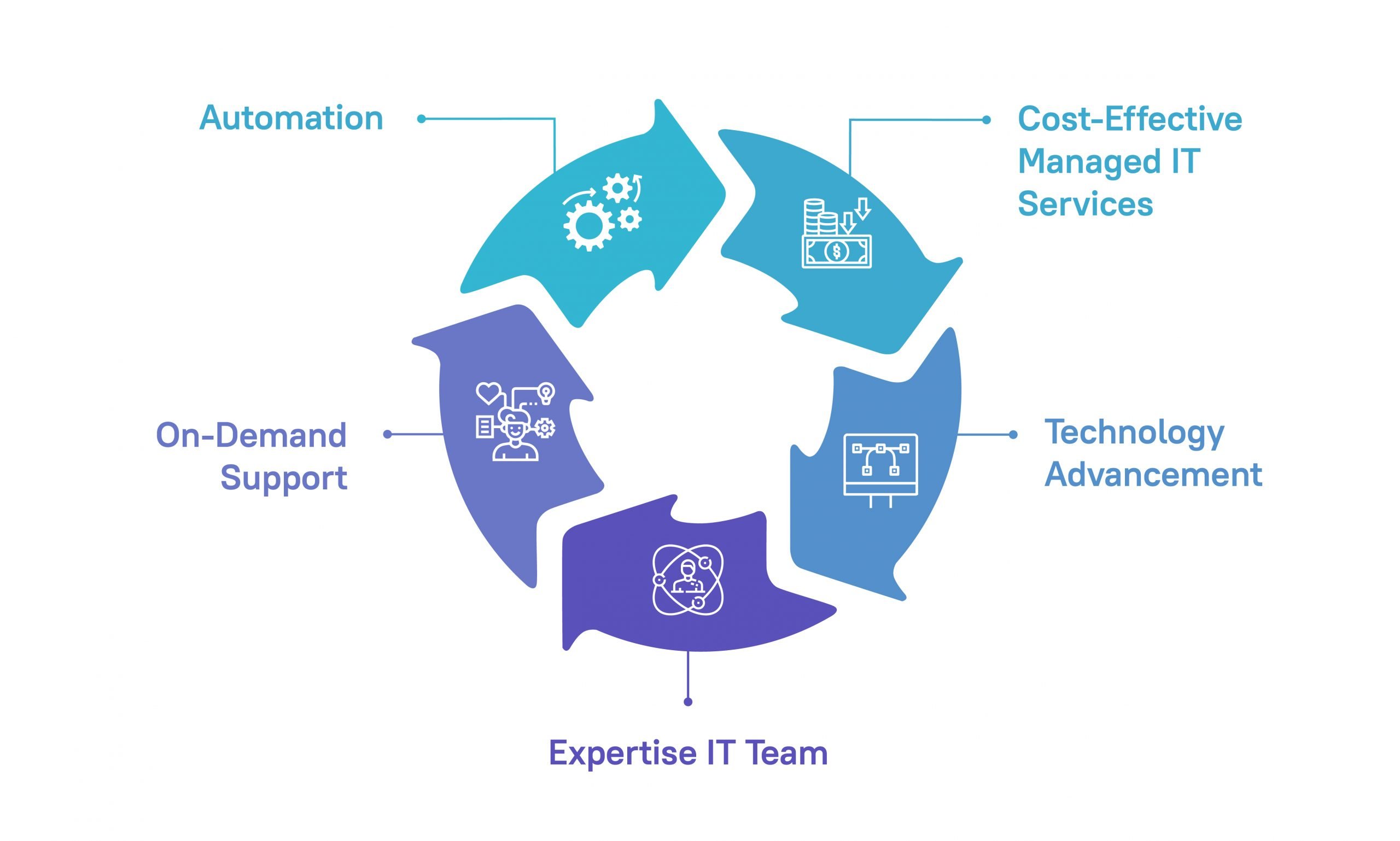 How does IT managed services help you?
Avoid high in-house management costs
Maintaining an in-house IT team and infrastructure facility is costly. This has always been true and probably always will be. In addition, finding the right IT staff is difficult.
Managed IT services are cost-effective when compared to in-house IT operations. By partnering with a managed IT professional, you can reduce costs on infrastructure, office space, hardware, software, recruitment, payroll, training, employee's package, and other expenses. In addition, with an in-house solution, you must focus your time and effort on maintaining productivity. This can prevent you from growing your business.
Note – You can get customized IT services to meet your specific needs. Some IT companies have flexible package options, which help you pay for the services you need.
Benefit from technology advancements
Innovations never stop in the IT industry.
To stay updated with the trends and competition, keep investing in the latest technology and human resource for productive output.
IT managed services not only offer you personnel with more experience, it facilitates your business with cutting-edge technology at the same cost. Your managed services partners keep adapting to the latest innovation for automation and faster growth. This, in turn, helps adapt to new technology as soon as possible to retain clients and build long-term relationships.
Assists in human resource management
Finding resources on demand is a constant problem because it's hard to get in touch with experienced candidates and get them on board. Increased demand and lack of resources can stop you from successfully scaling your business.
IT managed services help you scale resources up and down on-demand. They have access to a large number of candidates on short notice. These resources are fully experienced in working with companies like yours. You can utilize them based on the scope of work. They can be dedicated to your business from a remote location or you can utilize them in-house to expand your in-house team.
A good IT service provider can offer you resources who can work on either an hourly basis, part-time, and full-time. If you need an IT professional on-demand, then you should outsource IT operations.
Handles emergencies, support, and maintenance
Some companies don't see the need for IT support on a regular basis, and they avoid an in-house team and external services too. At times, however, they may find it necessary to search for an IT professional to work with them in emergencies and end up paying more.
IT managed services act as stand-by for your company and ensure your online business activities are always active. You just have to ask and they will provide on-the-spot solutions. They can offer you a guarantee on IT services.
When you contract with an outsourcing company, they can provide IT support and maintenance services at a reasonable cost.
The range of IT Managed Services that can be outsourced include:
Software Development Services
Cloud computing
Quality Assurance team
Customer support
IT support and maintenance
Digital marketing services
DevOps managed services
IT consultants
Though there are no strict parameters on who needs managed IT services in the era of digitalization, these questions can be helpful in deciding if you should outsource these services:
Are you having trouble managing your online business?
Do you need IT services?
Is your company lacking IT operations?
Do you want to migrate to the latest IT trends?
Small and medium-sized companies
Scarcity of investment, growing business, tough competition, client pressure, fund allocations, and internal staff management are stressful in small and medium-sized businesses.
Hiring an in-house IT team can increase the financial burden in the short term. This is one of the common reasons, why small and mid-sized companies need IT managed services.
Enterprise-level companies
To leverage an in-house team's productivity, large companies take support from IT managed services providers. This allows their internal team to focus on important tasks.
Benefits of managed IT services
Adapt the latest technology faster than ever
Increase productivity
Have a dedicated team to manage your business
Rely on on-demand support
Focus on growing your business
Qualified professionals
Cost-effective solutions
Automation
Do you want to enjoy all these benefits?
You need a strategic business partner to take control of your IT operations. It is advisable to do comprehensive research before partnering with an IT company.
To ease the process, you can draft your requirements and start approaching companies from the areas you choose. Many countries provide managed IT services and meet your requirements.
If you want on-demand resources that cater to all your needs from a remote location or in-house, contact us to consult. Our experts will guide the process and help you understand the importance of IT managed services and how they can impact your business.
Next Steps