WordPress is a free and open-source platform developed in PHP. Today, WordPress is behind everything ranging from simple websites and blogs to large portals and websites.
Today, WordPress powers nearly 43% of the websites on the Internet. It offers simplicity for users and under-the-hood complexity for developers. Currently, WordPress boasts one of the world's largest communities of developers, which makes the platform practical and beneficial to end-users who can use it to run their businesses effectively.
The global WordPress community is always working on improving WordPress so you can grow your business effectively online. An added benefit of using WordPress is the large global community that supports open-source software. Several different types of meetups, camps, and community events bring WordPress fans together.
By updating to the latest WordPress version (WordPress 6.0.2, released in August 2022), you can enjoy new and robust features. Updates make your website more secure, improve performance, and help users enjoy a seamless experience.
New updates come with many features that allow you to reach more customers and drive automation. This blog will explore the many benefits of updating your WordPress website to the latest version.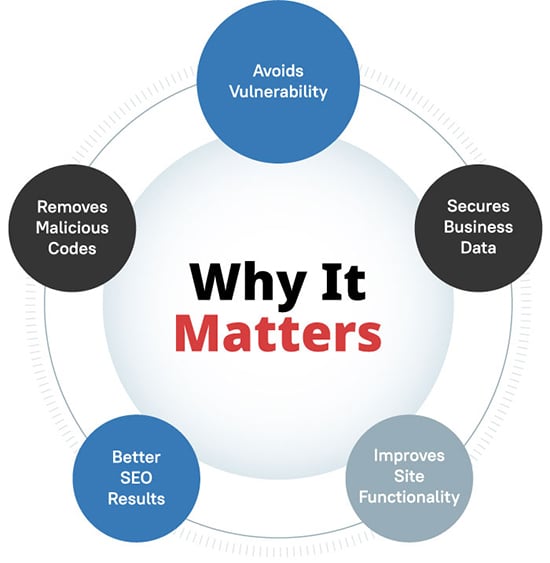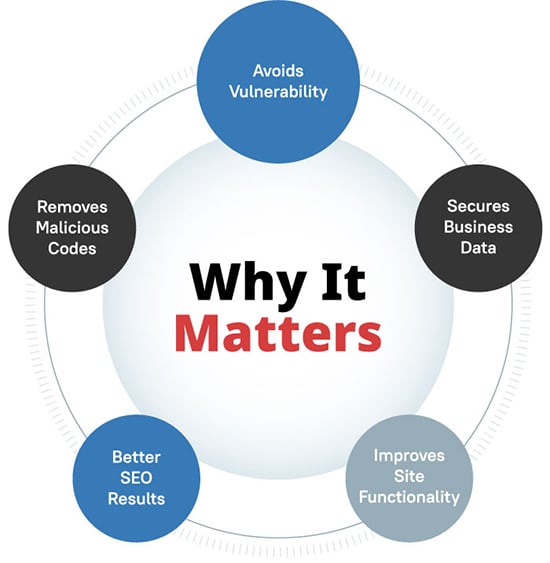 Reasons for Updating to the Latest WordPress VersionNew Features
1. New Features
With every update, WordPress launches new features to improve website functionality. These features can allow you to manage your website effectively. In addition, you can customize your website and add advanced features to stay ahead of the competition. With these new features, you can offer a seamless experience to your user.
2. Bug Fixes
One important reason you need to update WordPress relates to bug fixes. Bugs can slow your website and provide an awful experience to the end user. The WordPress community is always working on fixing bugs, which can prevent hackers from illegally accessing and stealing data from your website. Moreover, a search engine like Google loves a website that can ensure data protection. If you want better results from search engines, you can update to the latest WordPress version and remove existing errors from your site.
3. Website Optimization
Website optimization is crucial to providing a seamless experience to site visitors. Thanks to new updates, you can add more user-friendly and responsive content to your website. Another advantage of updating to the latest WordPress version is improved speed and lightweight design.
4. Security
The WordPress community cares about your business data, user experience, and user data. If you care about your business and user data, it is advisable you update to the latest version. Every update provides a better security patch to make WordPress more secure.
5. Latest Technology
New technology makes your website seamless, responsive, and secure, which goes a long way in improving your online business. With every update, the WordPress community improves the technology behind WordPress, so your business is always at an advantage. Moreover, new technology allows you to add automation features that help with business analysis and data processing.
Tips To Improve Your WordPress Website Performance
To get the best out of your online business with a WordPress website, you should constantly update your website theme, WordPress version, and all the plugins. You can even enable auto-update to make your tasks easier. Whenever something goes wrong while updating the website, WordPress allows you to reset to the previous version, so your business is always up and running. You can follow tips such as:
Install and activate WP Rocket to optimize your website to 100%. This will decrease the load time for your pages and allow users to browse your products and services effectively.
Use SEO plugins like Yoast SEO or Rank Math to improve search visibility and reach more customers.
Update your website content often to reflect new product or service offerings or to share other important news about your business.
Integrate your website with the latest social media platforms such as LinkedIn, Facebook, and Twitter and promote your content efficiently.
Use the Mailchimp plugin to send newsletter and campaign updates to your customers.
Always perform a backup of your website and database before making any changes.
Work with the best hosting provider to avoid loss of data and guaranteed uptime.
Updating your WordPress version, theme, and plugin will allow you to improve site functionalities and protect your business data.
Many free plugins are available for WordPress web development. These plugins can help you to run your online business operation smoothly.
Last Words
WordPress offers several advanced features designed to help you run your business online. It is essential to update your WordPress version to use the latest features, remove bugs and stop hackers from stealing your data.
If you need expert help, you can try posting your questions in various community groups. You can contact well-reputed web development companies if you require a one-time consultation for developing your website. They will provide you with the best solutions within a limited timeframe.
Next Step