The year 2020 saw COVID-19 change the rules of business. More people are choosing to conduct business communication online and complete contactless transactions, including payments. A Forbes article says eCommerce sales grew by more than 30% in 2020, fueled by consumer demand resulting from the global pandemic.
For businesses that had little to no digital preparedness, 2021 may witness these three trends in eCommerce:
eCommerce is here to stay
If you haven't yet made arrangements for eCommerce capabilities for your business, it isn't too late. From grocery delivery to learning to telemedicine, digital capabilities have crossed multiple boundaries and the trend is here to stay for a long time.
A Forbes article refers to a study where 72% of retail professionals surveyed said the pandemic accelerated their digitization plans by at least a year or two, while 21% say their plans were accelerated by three years at a minimum.
Action: Choose a professional provider of eCommerce solutions to ensure your site is in sync with your efforts and goals. Professional guidance can get you the most current solutions and benefits that come from industry experience and knowledge of best practices.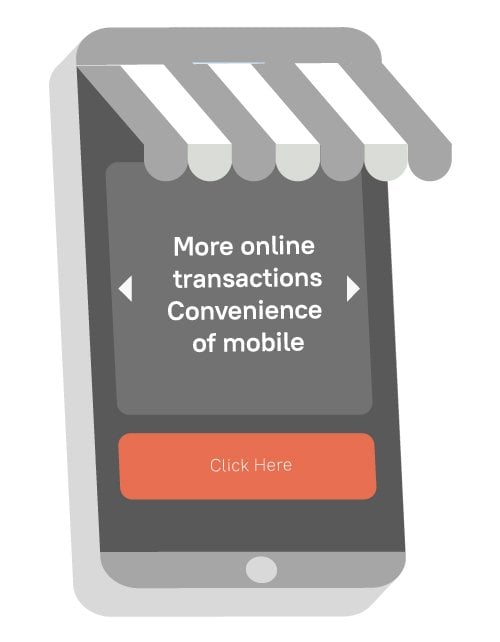 Mobiles take center-stage
More people are using mobile phones and smartphones are often the device of choice when it comes to communication and transactions. Consumers may choose to browse and shop using their mobile phones. Progressive Web Apps (PWAs) work even with inconsistent internet connectivity, and as a result, transactions are device-independent, easier, and more trusted by users. A Forbes report featuring Statista research says that mobile shopping is predicted to account for nearly 73% of total eCommerce sales in 2021.
Action: Choose software deployment from professional services providers who understand your business needs and customize solutions accordingly. Mobile eCommerce can be highly specific to business needs, including products and services being offered, and the target customers.
Security and cybersecurity
As payments go online, any downtime or outages can trigger buyer/user concern, especially where high-volume payments are concerned. Thankfully, modern technology has brought together the different elements of a great user experience, responsive websites, and cyber security in the form of web applications and customized software development.
Action: If you choose professional assistance for your eCommerce requirements, you can discuss security options, especially the ones most relevant to your work. Cyber security affects not only customer transactions on the website, but is a business requirement from a compliance and regulatory standpoint as well.
Why partner with professionals?
Professional eCommerce deployment can help businesses reap benefits almost immediately. Contrast this with multiple attempts to create an eCommerce strategy, with mobile apps and comprehensive security, and partnering with a professional is the obvious choice. Apart from staying on top of eCommerce trends, a successful business needs to develop a competitive edge that allows it to stand out. A positive experience and ease of navigation and payment can help convert browsers to customers faster and more consistently. Regular maintenance and upkeep of your eCommerce website is easier if done by professionals and can help nurture customer trust and loyalty.
Eventually, as a business owner, you need to spend a significant amount of time in business-building and revenue generation. Professional eCommerce solutions can help you do exactly that.
Next steps