Today, the eCommerce industry is booming rapidly as many more businesses continue entering the field and thereby boosting competition and promoting growth on a global scale. As a result, customers can opt for better shopping experiences, while brands need to pay greater attention to contemporary eCommerce trends.
The eCommerce industry has evolved into a dynamic and cutting-edge online ecosystem that reflects diverse customer requirements, desires, and buying behaviors. According to recent statistics, global eCommerce sales topped $ 5.2 trillion in 2021, and this figure is projected to increase in the future.
To ensure your company maintains its competitiveness and efficiency, staying informed about the most recent eCommerce development trends is critical This blog will discuss eight eCommerce trends that will inevitably shape how the sector evolves. This knowledge can help give you an edge over your competitors. Therefore, let's start with why eCommerce trends are significant in 2023.
The world of eCommerce is witnessing severe cutthroat competition. That's why trends must be continuously tracked so that you always remain a step ahead of the competition. No matter how advanced your online store is, if you don't stay up to date with eCommerce trends, you risk slipping significantly behind your competitors.
Additionally, helping your eCommerce store keep up with current trends makes your brand relevant. It shows your customers that you value their opinions and well-being enough to make continuous improvements. This, in turn, improves your brand's reputation and positions you for tremendous long-term success. Let's discuss the top eCommerce website development trends you must adopt in 2023 to run a successful business!
Most eCommerce brands have a good chance to explore technological advancements and how new marketplaces emerge. They can also test out various platforms and use more contemporary tips. Here are the top 8 eCommerce development trends to watch out for in 2023!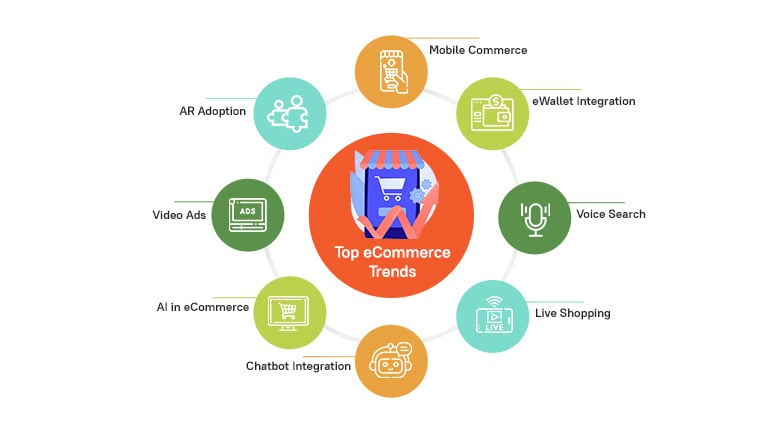 #1. Voice Search
Voice search is becoming more widespread and is thus having a greater impact on search results and purchasing decisions. Alexa, Siri, and Google Assistants are among the smart technologies that will continue simplifying human lifestyles. Voice search is frequently incorporated into eCommerce sites as a gateway to online purchasing. According to research from Google, 62% of users today will use voice technology to make a purchase. If you choose to include voice search, you must set up your website so that information is optimized for voice searches and a voice-based functionality is enabled that allows users to navigate your whole site.
#2. Live Shopping
Live shopping is a trend that will undoubtedly gain traction in the coming years. Customers can view products live, comment,  or post queries while shopping. This kind of interaction can make shopping feel more personal, which can increase sales and customer loyalty.
Customers may ask questions, receive responses, and make purchases instantly thanks to this online shopping trend. This strategy was first adopted in China and brought in $300 billion in revenues in 2021.
While still in its infant stages, the US live sale trade is predicted to reach $25 billion in 2023. The interactive aspect of live shopping is one of its most essential draws. Thanks to this trend, brands have the chance to be inventive with how they present their products, engage users, and make sales.
#3. Chatbot Integration
In a traditional shop, customers can speak with staff about their issues or problems. Online stores typically lack this perk, so customers either conduct their research or leave. This service gap can be filled with the help of  AI-based chatbots. According to Gartner, by 2027, chatbots will replace live agents as the primary method of customer care for about 25% of companies. For your eCommerce business, you will therefore be able to gather information on the questions, issues, and products discussed in the chatbot conversation. This reduces the amount of work you do for customers while simultaneously improving their experience.
#4. AI in eCommerce
The AI-based eCommerce solutions market was valued at USD 3.71 billion in 2021. From 2022 to 2030, it is predicted to increase at a CAGR of 15.7%. AI will allow eCommerce businesses to customize customer buying experiences completely. AI will also assist companies in automating various tasks, including customer support, order processing, and product recommendation. It can also help with the following:
Product recommendations
Personalizing shopping experience
Automating customer experience
Fraud detection
Inventory management
Order processing
#5. Video Ads
Shoppable video ads represent one of the more intriguing eCommerce development trends. Customers can shop while watching these videos. and without having to leave the site. Before making a direct purchase through their PC or mobile device, the consumer can view product pricing, size, and stock information by clicking on the video ad. Customers will be more likely to interact with your brand and make purchases thanks to this improved customization and interactivity, which can help bring more people back into your business.
#6. Mobile Commerce
More and more people today use their phones more often than they use other gadgets like computers or tablets. Therefore, your eCommerce site is probably losing sales and customers if it is not mobile-friendly.
Utilizing responsive design is one technique to increase the usability of your eCommerce site on mobile devices. Thanks to responsive design, an eCommerce site's ability to adjust instantly to various devices and screen sizes can make it more accessible and user-friendly. To make a sustained increase in customer conversion rates more likely, you must implement responsive design on your eCommerce website as soon as possible if you haven't already.
#7. AR adoption
AR is a genuine game-changer for eCommerce, as it provides 3D mapping designed to let buyers try on items or sample activities before making a purchase. Additionally, it enables the delivery of a more user-friendly and captivating visual shopping experience that allows customers to engage with products in an immersive way. As a result, AR technology helps clients better visualize things before making purchases, which can lead to more profitable deals.
#8. eWallet integration
Electronic wallets or "eWallets" simplify, secure, and improve the overall purchase experience. Every customer appreciates an easy checkout process for purchases, and eWallets streamline the process by removing the need for customers to re-enter their payment information each time they make a purchase.
In addition to making payments more straightforward, these eWallets offer several benefits, including reward points, money transfer options, and other credit facilities.
Conclusion
The online shopping industry is constantly changing to meet customer requirements. These new trends streamline, simplify, and improve the buying experience for consumers. Now is the ideal time to improve your website by using the most recent eCommerce development solution, as there will be more changes to how people connect with companies and make purchases.
Next Steps
Want an effective eCommerce solution for your company? We're happy to assist you any time.
If you want to improve the shopping experience for your customers on your eCommerce website, we can help. We are a leading eCommerce development services provider with 15+ years of experience in all the leading technologies.
Email us at sales@analytix.com or call 781.503.9002 today. 
Follow our blog for industry trends and the latest updates.