For a significant part of 2020, lockdown restrictions and social distancing were the norm. Businesses with even a small amount of technological capabilities built upon those capabilities to enable remote work and contactless transactions. Some of these changes may be necessary for a longer period than originally envisioned. A McKinsey study on customer behavior and experience discusses increased traffic in online channels. Nearly every activity, including food, fitness, finance, education, and health, currently includes a digital or online equivalent. The study outlines offerings, such as telemedicine, that have grown 91% since the pandemic hit, with 48% of consumers interested in this type of interaction in the future.
This highlights the need for robust business applications on the web, since websites and UI/UX may become the primary customer interface.
As technology adaptation accelerated through a major part of 2020, our experts have identified some trends for web development in 2021:
Progressive Web Development Apps (PWA)
A PWA functions like a native mobile application, but operates as a website. A PWA advantage is the experience it provides as it behaves much like a mobile app, providing end users the user-friendly experience of using a mobile application.
With mobile phone usage accelerating in 2020, it makes sense that PWAs will also thrive because of the ease and convenience they provide.
In addition, a PWA is convenient for developers and saves costs for businesses.  As an application, a PWA is often combined with native apps, helping businesses increase conversion rates. A PWA provides functionalities similar to an app, but without the need for download. They are also reliable and regardless of network connectivity, PWAs enable usable web pages, and therefore help retention. For businesses, it also helps that PWAs reduce overhead and negates the need to develop dedicated apps for each mobile platform. Once built, PWAs can operate on different mobile platforms.
Confused between Native and Progressive Apps? Check out our article on Choosing Native Apps or Progressive Web Apps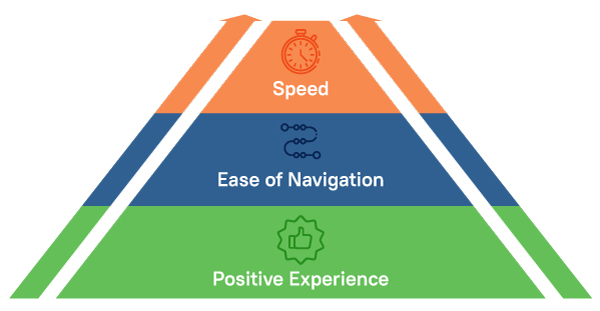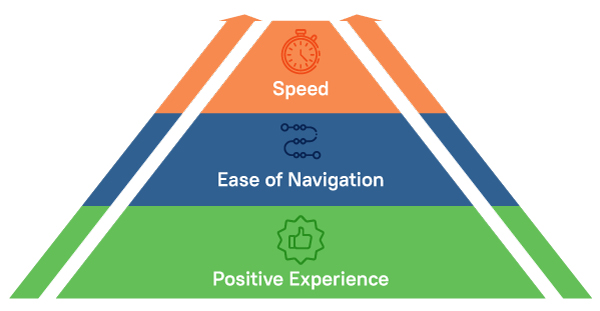 Single Page Websites
The shift to accessing the internet and conducting transactions on mobile devices means that websites need to be compact and easier to navigate. According to an article by Wunderman Thompson, 53% of users abandon a site if it takes more than 3 seconds to load. Scrolling also contributes to time taken in navigating a website. Single page websites are critical to a positive user experience especially on mobile devices. 
For developers, this translates into reduced need to build extended web structures and simpler web development and hosting. However, to ensure an effective single-page website, businesses should work in tandem with professional web development services providers to access optimized design and navigation. An appealing UI can contribute significantly to user retention and conversion.
Dark Themes
As social distancing became the norm and remote transactions a new way of communicating, mobile and internet usage took center-stage. From working, to ordering food, to banking, and all other activities, websites and apps were available online for almost everything. New users moved to online transacting at a faster pace in 2020, triggered by the lockdowns and social distancing.
Dark themes, also known as the dark mode or night mode, is a color scheme that uses text, icons, and other graphical user interface items light in color on a dark background. These are not new to mobile applications, but websites are now catching on with increasing access on mobile devices. Dark themes or backgrounds reduce eye strain, while allowing users to read and access information through enhanced visibility. Dark themes also significantly save power on devices.
The Competitive Edge
As digital acceleration gains strength, it is important for businesses to develop capabilities that enable them to focus on long-term growth. Web development is a critical component of business sustainability. Choosing the right solution is essential.
At Analytix, we have helped small businesses and startups launch effective web designs to match their business. Our solutions have helped businesses acquire a digital presence that accurately reflects the business. Download this cash study to learn how we helped one of our clients revamp their web presence to create a high impact, high-energy, responsive website that improved the user experience. All of this was also mobile optimized to help engage user traffic on mobile devices.
Next Steps
Learn more about how professional expertise can help your business's web app development with the added benefit of cost-efficiency.
Email us at sales@analytix.com or call us on 781.503.9002 today.
Follow our blog for industry trends and the latest updates.