Businesses are rapidly moving forward with Information Technology (IT) and automating daily tasks. This provides opportunities to entrepreneurs for growing more rapidly in the market.
If you want to run a successful business in today's market, consider improving your operations by relying on technology.
Benefits of IT in today's business
Digitalization – Move your business online and manage all its functions from remote locations.
New opportunities – The utilization of advanced technology can help to access new markets and reach more customers.
Competition – Easily track competitors' progress and their strategies.
Resources allocation – The funding you save by automating can be used for growing your business.
Digital marketing – The cheapest way to reach new customers and target them with their weak points.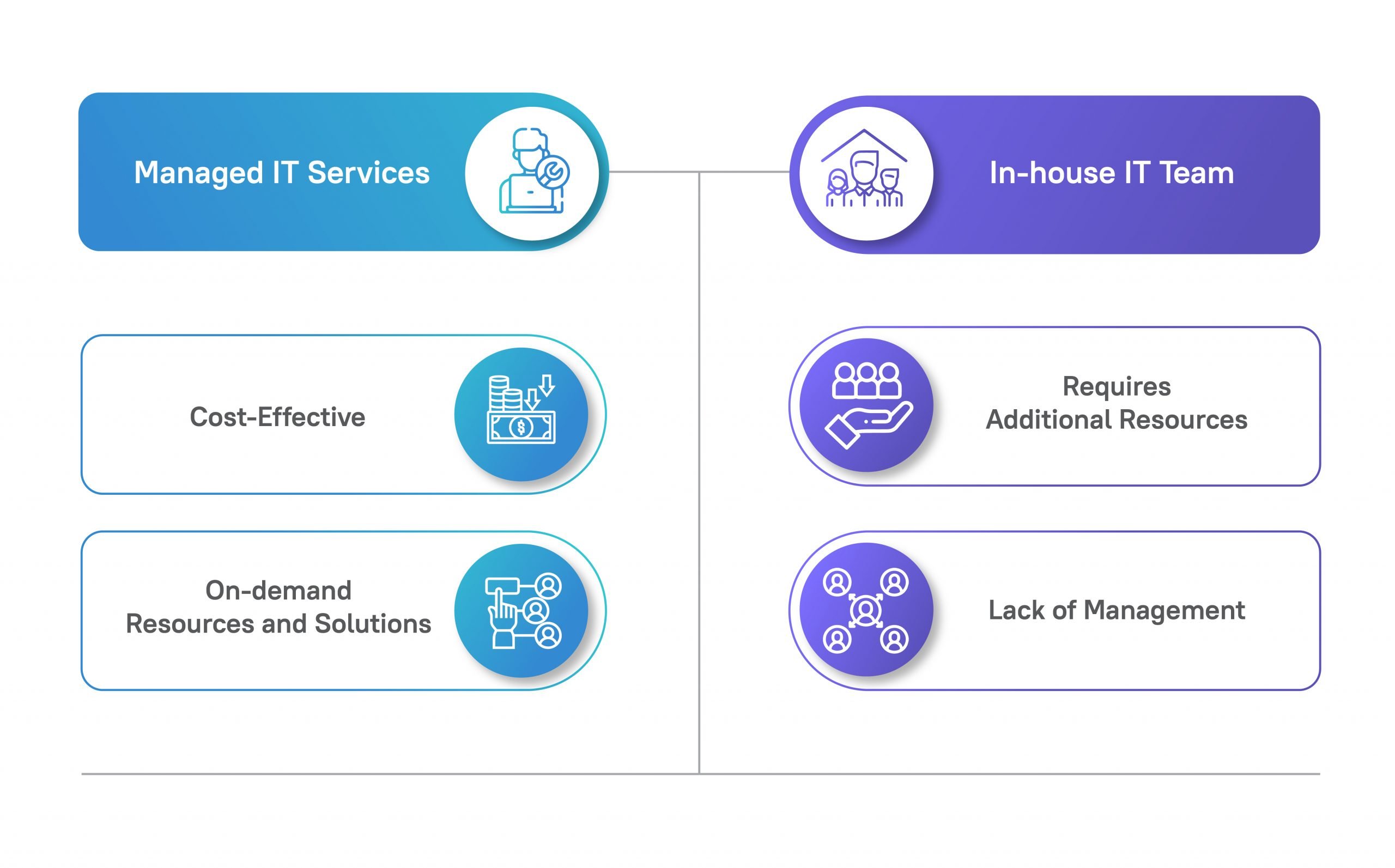 There are two ways to optimize IT in your business.
In-house IT team
Managed IT services
1. In-house IT Team
You can hire in-house team to manage your IT operations where you will be responsible for hiring and onboarding your new employees.
An in-house IT team is costlier compared to managed IT services. If you can invest a huge amount and facilitate IT resources on-premises, then this is your option.
Major concerns
Lack of resources
Hardware and infrastructure management
The hiring and training process can delay the project
Huge upfront Investments
2. Managed IT services
Solutions are tailored based on the type of business.
All your IT operations and its management can be managed by a strategic business partner. If you allow a third-party to manage your IT operations, you can have peace of mind and time to focus on growing your business.
Managed IT services offers flexibility and helps your company grow. Another advantage of managed IT services is that you can have on-demand solutions. From hardware to resources, managed IT services providers will meet your needs.
Advantages of Managed IT Service
On-demand resources – Add or remove resources as you need them.
Flexibility and scalability – You have total control over dedicated resources.
24/7 customer support – Your external team focuses on all IT problems so business activities never stop.
High-end technology – Optimize your business with the latest technology to improve productivity without a huge investment.
Top-notch security – Managed service providers make your business a priority and ensure all business data is secure with end-to-end encryption.
Cost-effective –Managed IT services can save up to 30-40% of the investment.
How to select your strategic managed IT service partner?
Finding a Managed Service Provider is difficult.
You will be sharing your organization's data and crucial information. One wrong decision can jeopardize your business.  To choose a managed IT service provider, consider the following checklist.
Checklist for choosing the right managed IT service provider
Research – Since there are many managed service providers in the market, it is important to select the one that can meet your needs. Make a list of reputable companies and study them one by one.

Case studies – Research previous clients to understand their area of expertise. Some companies are known for providing end-to-end services and other providers are focused on dedicated resources.
Portfolio – Go through the company's portfolio to understand their capacity and capabilities. This will help you learn their reputation.
Time zone – Many countries offer outsourcing solutions but not all of them can provide dedicated resources who can work during your business hours. To narrow down the search, select a managed IT service provider that can provide flexible shifts.
Accessibility – To keep track of your dedicated resources, you need a high-end system that allows you to manage remote resources and work with them efficiently. You work with a managed IT service provider that can guarantee you complete access and control over the applications and resources.

Full-control – You can utilize your resources and investment to the fullest extent possible.
Dedicated resources – Hire resources that work only for your organization.
Certified professionals – You benefit from the expertise of qualified and skilled specialists.

Fluent–communication – When you are working with a third-party IT service provider, communication becomes the most important factor.

Interview – Connect with your dedicated resources, project, and account manager before agreeing to partner.
NDA (Non-disclosure agreement) – Make sure the business partner agrees with you on all the conditions.
Robust technology – Businesses with the latest technology survive in the market and grow faster. State-of-the-art technology allows you to stay ahead of the competition. To help your business operate most efficiently, managed services providers should focus on moving your business to the latest technology.

Smart solutions – Managedservice providers should be capable of handling your business with the latest solutions.
Cloud computing – Entrepreneurs are moving to cloud technology to leverage business operations. Migrating to cloud operations should be your top priority to push automation.
If your business requires special services, it is advisable to document your requirements and expectations before approaching managed IT service providers. Be straightforward with your requirements and business needs to get the best results. One mistake can put your business data in the wrong hands.
Next Steps