Most businesses interested in sustainability and growth in a COVID-19 landscape have an online presence. However, this is different from a full-fledged eCommerce website because of the features involved.
Not all business websites are eCommerce enabled. Most exist to inform online users about the business. They carry information such as contact details and address, basic information on products and services the business offers, and at times, more information in the form of articles and blogs. Some websites are simply single-page information hubs. Typically, an eCommerce website contains multiple web pages.
There are several features on an eCommerce website that help customers conduct business smoothly, browse listings, place orders, and get deliveries. If your business has its own website, here are four ways it may differ from an eCommerce site:
Easy to use checkout
An easy-to-use checkout can enhance a payment gateway by providing visitors with an uncomplicated and simple experience when sharing financial information. One of the reasons for cart abandonment is a complicated checkout process; enabling swift and secure payment can help visitors complete their purchase.
Easy to use checkouts must also be secure. A visitor may abandon shopping at this point if they encounter slow responsiveness or a webpage that is no longer responsive.
Payment gateways
Payment gateways can be a defining factor for eCommerce websites.
Unlike websites that serve to inform visitors about the business, eCommerce websites offer visitors the option to make payments in different ways, for user convenience. Because payment gateways require sharing of information, they have heightened security provisions. Any threat perception can drive visitors away at the payment point, given that financial information gets shared.
Content management capabilities
Products and services listings can be accompanied by content management capabilities on an eCommerce website. Useful content built around products and services can encourage visitors to explore the website while helping them complete their purchases.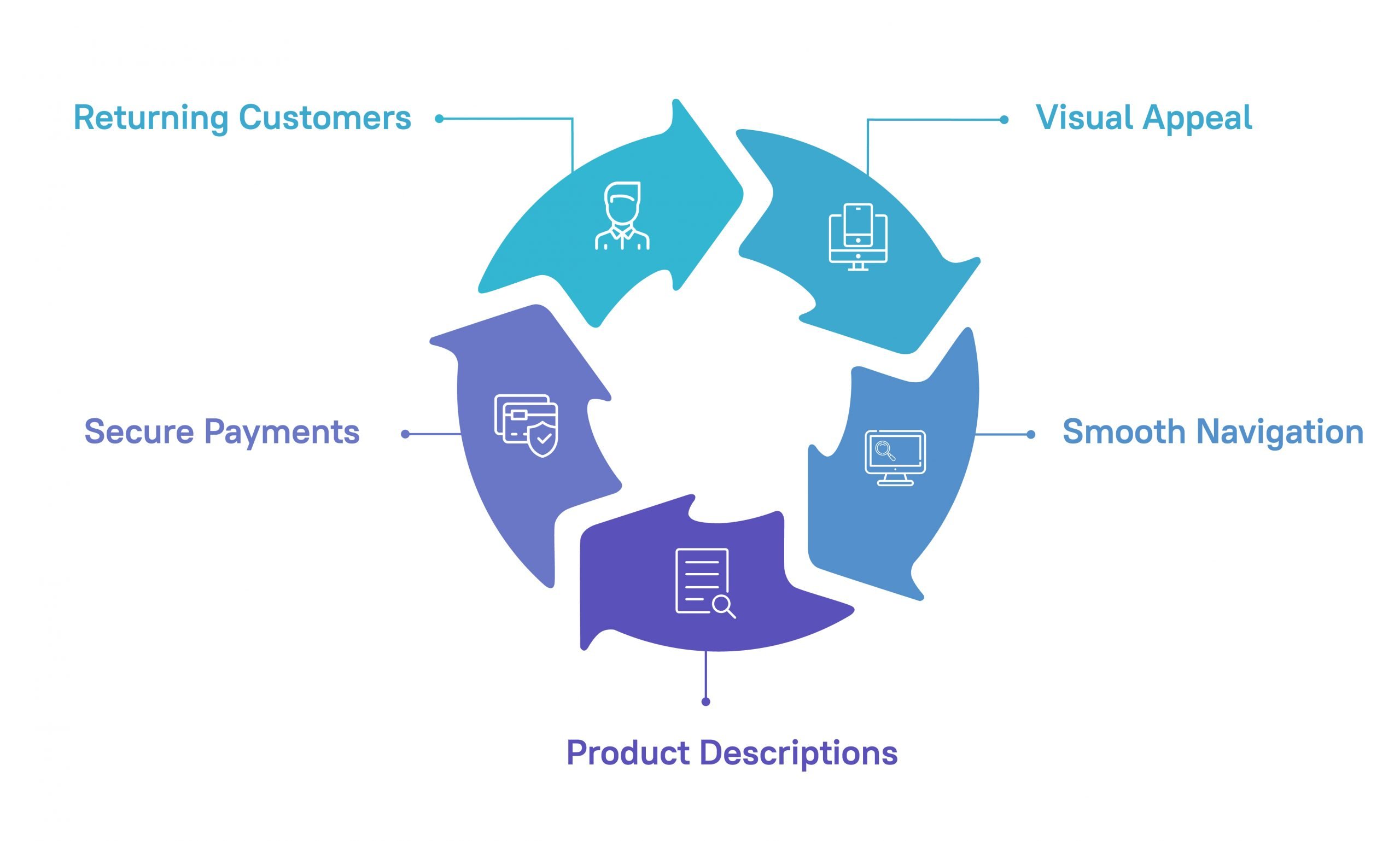 Promotion and discount code tools
Offers and promotions can attract potential customers.
Placing deals, discounts, and promotional offers at prominent places on the webpage can catch your visitor's attention and encourage them to make a cost-effective purchase.
Search engine optimization code and layout
Search engine optimization code and layout are of particular importance for an eCommerce website. These can help internet users and visitors locate your business.
Reaching out for professional assistance with eCommerce search engine optimization code and layout can help businesses develop a competitive edge, such that they feature higher in searches by visitors.
Reporting tools and custom report features
Alongside search engine optimization, reporting tools and custom report features can help businesses review important information on metrics such as customer acquisition figures, referral traffic revenue, time or day of week when sales clock highest volumes, etc.
To ensure these analytics serve their purpose, businesses need custom reporting features. Custom reports enable accurate interpretation of metrics and these interpretations can then be utilized in making improvements where needed, in order to drive streamlined operations and profitability.
An integrated blog or articles section
An eCommerce website can have integrated blog or articles sections that help inform and educate the visitor in their purchasing decisions. These articles can simply expand on details for the products and services listed by the website, or help visitors explore their own requirements better.
Email marketing features or integration
Many eCommerce websites also have email marketing features or integration. At times, visitors can be redirected to this feature through informative content like a blog or an article. If interested, they can sign up to receive regular information or updates on their requirements.
Subscriptions help your business understand customer needs and customize offerings accordingly, contributing to lead conversion efforts.
UI/UX-focused website design
An attractive and engaging user interface, free of distractions such as pop-up windows, may be the hallmark feature of an effective eCommerce website.
Branding symbols, logos, and other pertinent information regarding products and services available on the website may be displayed prominently and not simply information-focused. There is a strong visual hierarchy on most eCommerce websites, meant to attract and engage casual visitors who might be simply browsing an online store, and convert them to customers.
Products and services listings
Unlike an information-only website, the product/services pages on an eCommerce website are detailed, with information on products/services offered in both text and image form.
As in a store, an eCommerce website should offer the customer maximum details and reviews to help them research and eventually complete the purchase.
Back-end analytics
From reviewing how long a visitor stays on a particular page, to the number of clicks a particular offer receives, to completing payment checkout, an eCommerce website must have analytics enabled to help assess and understand efforts that work and lead to conversions.
An information-oriented website may not need a detailed plan to study visitor behavior. However, there may be provisions for visitor engagement, encouraging them to contact the business for a call back or an email.
Website development for eCommerce ventures
eCommerce website development brings together understanding of business insight and customer behavior. Professional assistance can help create effective web design and navigation while keeping glitches to a minimum. It can also boost a more secure payment experience for the customer and address challenges faced by ambitious businesses in the eCommerce arena.
Next Steps