Most businesses, regardless of their size, routinely face challenges such as:
The need to save on capital investment, such as purchasing infrastructure and premises, and paying utility costs
Hiring, training, and retaining the right talent
Payouts, including salary and benefits
Consistency in upgrades, updates, etc.
Addressing security concerns, both for in-house needs and those of clients.
Outsourced professional assistance can help businesses address such challenges. At the same time, this can also help boost sustainability and scalability. There are many benefits to building businesses that sustain, thrive, and grow. Some of these benefits include:
Easy access to the managed services provider's (MSP) expertise and insights to help gain a competitive edge
Businesses can reach out to the MSP for the latest in technology, infrastructure, and best practices
Businesses can extend their offerings with optimized MSP services
The reliable support and technical troubleshooting that MSPs offer enables businesses to stay empowered
MSPs can continue supporting their current clients and focus on pursuing new business opportunities.
As more and more businesses become aware of these benefits, some trends in managed services are worth watching: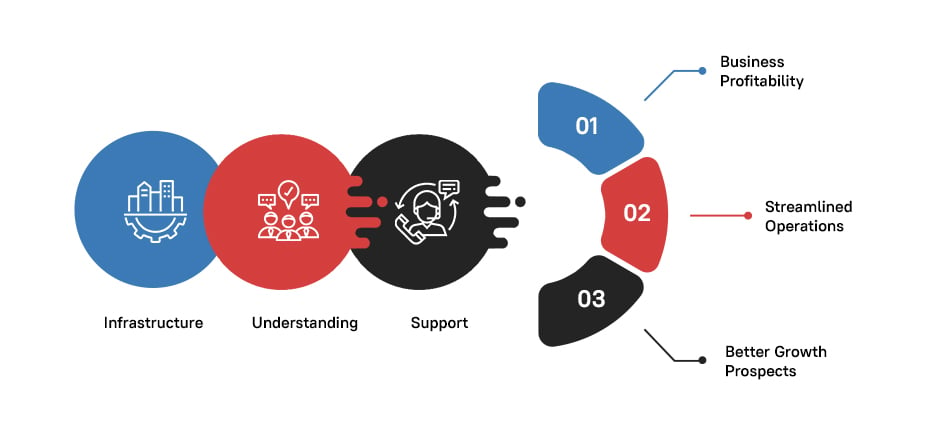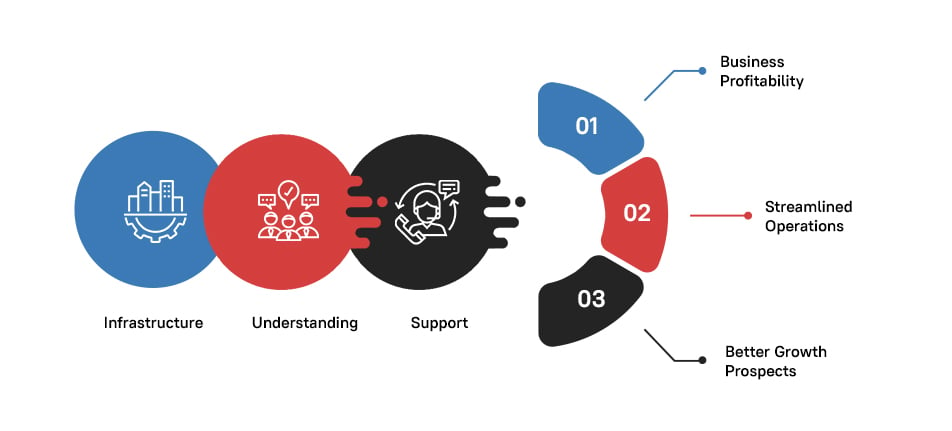 #1. Leaning Toward Infrastructure as a Service (IaaS)
According to a Grand View Research report, the global cloud computing market was valued at USD 368.97 billion in 2021 and is expected to expand at a compound annual growth rate (CAGR) of 15.7% from 2022 to 2030.
IaaS providers host infrastructure elements, including hardware, software, and storage & server components. This allows businesses the convenience of plug-and-play, where they can start working immediately without any time lapses in meeting customer requirements.
Furthermore, IaaS helps reduce the time and effort needed to install and maintain in-house infrastructure. Infrastructure is never a single-time purchase; it requires consistent maintenance and upgrades to ensure optimal functioning. In this context, IaaS also helps businesses cut costs and expenses associated with in-house systems, setting them up, and expenses associated with maintenance and operations.
IaaS also helps businesses reassure their customers receive better security. From improved data security and safety to phishing and other disruptive activities such as a Direct-Denial-of-Service (DDoS) attack, MSPs can help businesses access higher safety levels.
#2. Shifting to the Cloud
A Gartner report says remote work and the shift to the cloud will continue driving infrastructure trends over the next 12 to 18 months. It further estimates that by the end of 2023, staff will work remotely in more than 90% of infrastructure and operations (I&O) organizations. COVID-19 may have accelerated this trend, but it is also the result of the changing nature of infrastructure led by the shift to the cloud and edge.
Regardless of the industries they operate in, businesses are increasingly discovering the convenience of cloud computing. Cloud technology helps businesses bring in digitization in a more efficient, hassle-free way. Furthermore, this digitization is possible without substantial investments in infrastructure or additional resources. 
#3. Adopting Automation
Automation empowers businesses by taking care of low-margin yet high-volume work. This allows business leaders to allocate precious human resources to more critical tasks like decision-making or to pursuing newer revenue channels.
However, for automation to succeed, businesses must be proportionately tech-ready. This can include basic infrastructure and capabilities. It also requires that the business deploys the right automation solutions. An MSP can quickly fill this gap with its knowledge of automation and robust infrastructure. Businesses can benefit immensely and measurably by harnessing MSP support for optimal automation.
#4. Outsourcing for Reliability
Reports say that 13.6 percent of the average IT department budget is dedicated to outsourced tasks, and about 37 percent of IT tasks are outsourced.
An MSP provides expertise and reliability and helps businesses pursue their growth and development goals better. This reliability also extends to security and data safety.
Without assistance, small and mid-sized business owners engage in multitasking. This takes away the time and attention needed to run the business, especially for key decision-makers who may also be the founders of the business.
Outsourcing allows these businesses to access a high-caliber workforce; the key decision-makers thus gain crucial free time to pursue other business-building activities without compromising on existing deliverables.
Why Choose Professional Outsourcing Assistance?
In the current landscape, IT capabilities have become critical for businesses looking at success and the ability to thrive in an uncertain economic landscape. However, IT adaptation involves much more than purchasing hardware and software and deploying it. All IT capabilities must be built up keeping in mind business requirements, which are often unique. Within this context, managed services have a distinct advantage over in-house services in terms of time and cost savings.
Next Steps