Cloud technologies have been growing rapidly since the last decade. Especially during the recent pandemic, the growth of cloud computing has been explosive. This is primarily attributed to the growth in remote work. The rising trend of cloud computing can be witnessed globally. According to recent reports, the cloud computing market reached 445.3 billion in 2021. It is expected to reach 947.3 billion by 2026. Today, approximately 50% of all corporate data has shifted to the cloud. Let us discuss some of the biggest trends in cloud computing in 2022 in this article:
1. The emergence of multi-cloud, hybrid cloud, and distributed cloud
Earlier, large enterprises had the convenient option of going for the private cloud due to high security and customizability. However, due to flexibility and latency issues, a choice of multi-cloud, hybrid cloud, and distributed cloud has emerged. This choice gives businesses a flexible opportunity to choose between these options. With multi-cloud, users utilize many public and private clouds to meet their bespoke requirements.
Hybrid cloud offers a similar option to multi-cloud, with an option to use a combination of a public and private cloud. The public cloud is used for work and can be altered whenever necessary. The private cloud seldom requires access with stringent levels of security. 
Distributed cloud encompasses servers that are distributed across a broad geographical area. Customers can leverage servers closer to their location, which results in faster service and less latent time.
2. The growth of Serverless Computing
Serverless computing is a method wherein backend services are provided on an as-used basis. The environment does not do away with servers, but companies that use serverless services are charged on a usage basis and not on the number of servers or the fixed amount of bandwidth used. There is a clear indication that the demand for serverless computing is growing.
This market is expected to maintain a CAGR of over 23.17% from 2021 to 2026. Since start-ups need to grow rapidly by delivering advanced products and features, this method usually suits such companies and SMEs. Serverless computing does away with the need to manage servers and data; hence, it eliminates many initial set-up costs.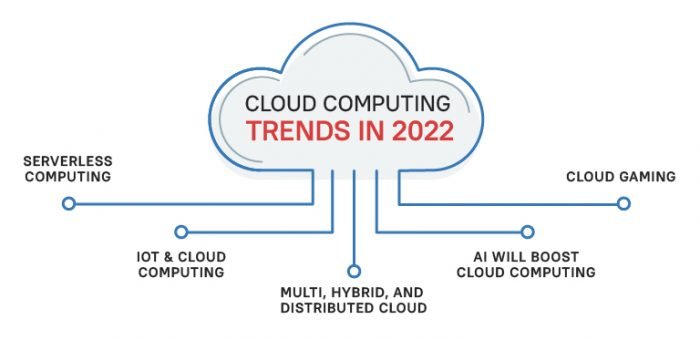 3. The Consolidation of IoT with Cloud Platforms
The combination of the cloud and IoT is slated to create a hyper-associated world, which will be a notable trend to watch out for in the near future. According to IDC, cloud computing devices could cross a staggering 80 billion mark by 2025. IoT platforms could help connect an application with the concerned device and its related data, forming a comprehensive cloud ecosystem.
4. Cloud Gaming Comes of Age
Recently, Amazon commenced with its own platform for cloud gaming. This is just an indication of the trends in the near future. It is expected that gaming will be increasingly cloud-delivered. Just as music and movies are streamed from the cloud, gaming and entertainment media will also be streamed from vast libraries residing on the cloud. These games will be available for a convenient monthly subscription. This development means that the days of developing high-end technology and hardware specifically for gaming could be coming to a close.
5. AI could boost the efficiency of Cloud Computing
The speed and efficiency of Cloud Computing will increase with the help of AI. Cloud-based as-a-service platforms are rapidly emerging to enable users to access machine learning functions such as image recognition and recommendation engines. AI will help cloud users deploy these innovative toolsets more widely with a rapid increase in efficiency and productivity.
Next steps
Do you need help in deciding a suitable cloud solution for your needs? Contact us today to understand how we can help you.
Email us at sales@analytix.com or call us on 781.503.9002 today.
Follow our blog for industry trends and the latest updates.