Security and safety solutions are among the most important issues for potential customers carrying out eCommerce transactions.
Most eCommerce businesses are built on the premise that visitors are likely to become customers when presented with products and services that fit their needs. Once a business's website launches, analytics and visitor information can help guide the best practices for maximum reach and visibility. All aspects of website design are critical to this, including security.
Inadequate attention to security can negatively impact your business. You can suffer immediate loss of revenue because of downtime and suspension of payments, depending on the kind of security breach, but may also lose customers and visitors who decide not to return.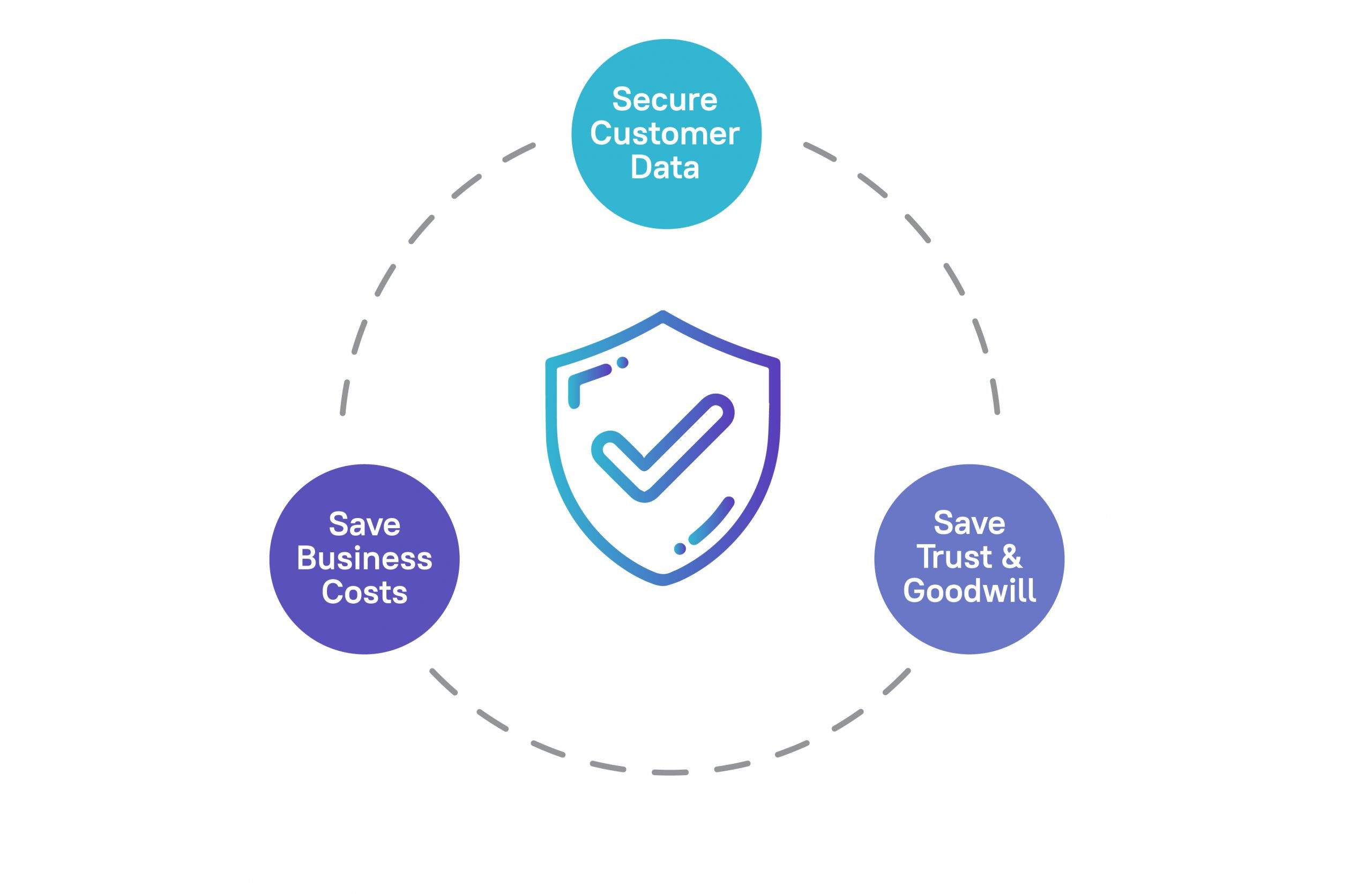 Security breach is a costly affair
According to a report by DarkReading, studies reveal that customers' personally identifiable information (PII) is the most sought-after record in data breaches. Eight out of 10 organizations reported that hackers targeted PII specifically. Furthermore, stolen PII is costly. The average cost per data record was $146, but it cost the business $150. This means that any data breach or security lapse is money lost for the business. These costs may be higher for businesses without a strong security plan in place.
For an eCommerce startup, security breaches can hit operations hard, and probably also threaten chances of survival.
Direct loss to business
More significant, security breaches lead to a direct loss in business. The DarkReading report says that customers who no longer visit the website result in nearly 40% of average cost per incident, which was $1.52 million in the year 2020.
There are different kinds of security breaches. Some may slow website operations, others may cause suspension of navigation or make the website inaccessible. Other kinds of security breaches include phishing, ransomware and malware attacks.
Either way, the business is impacted. This can result in the need to make refunds in the case of customers whose security has been impacted during e payment or after the purchase is complete.
Consumers prefer being in control
A Bizcommunity article says that at least 90% of consumers want brands to be clearer about how their data is used so that they have more control over it. By 2022, Google Chrome will no longer allow tracking of third-party cookies. While this reduces access to data for brands, it will mean that internet users will have more secure data privacy and increased control over their data.
Putting security measures in place communicates the intent of the business to put customer interests first and to prioritize the safety of their interaction and financial transactions.
Securing your eCommerce business
Given the high cost associated with security breaches, it is best for businesses to integrate security measures into website development efforts. This ensures business owners save business credibility and costs as well as foster customer trust to ensure conversion and retention.
Using professionals to address security matters, including data security for your eCommerce business, can help businesses, especially startups, build on momentum developed during launch, empowering them with reliable solutions, including the resources to execute the solution.
Next Steps