Managed IT services are now essential to helping businesses grow and operate efficiently due to constantly changing business requirements. The days of break-fix IT, when businesses entirely depended on their in-house IT department to provide all network and IT services, are long gone.
Due to all the amazing benefits, it offers, managed IT services have swiftly caught the interest of many businesses. By managing difficult and tedious IT activities, they assist businesses in staying focused on what matters most.
Interested in learning more about the advantages of managed IT services? Read this blog to discover the top benefits of managed IT services that are designed to help your business succeed.
What are managed IT services?
Managed IT services are services offered by expert IT companies that carry out IT management tasks on behalf of another company. These businesses are referred to as MSPs or managed service providers. These businesses offer IT services to businesses, typically at a fraction of the cost of hiring people on-site. They also provide various services, including data backup, security, and 24/7 monitoring.
Recently, there has been an increase in demand for managed services. According to reports, the market for managed services worldwide had a value of $185.98 billion in 2019 and is projected to grow to $356.24 billion by 2025.
If you are a business executive, consider leveraging a managed IT services provider's power to maximize your business's profitability. Consider the following benefits of using managed IT services: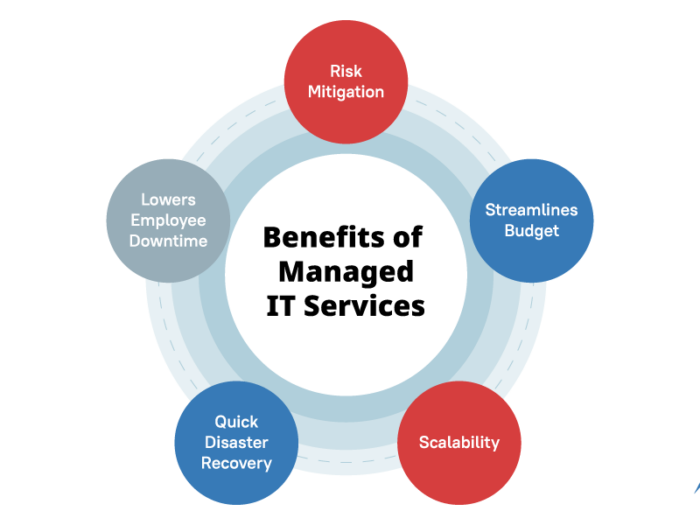 #1. Streamlines Budget.
Costs associated with IT vary a lot. Computers and systems can malfunction anytime and lead to unforeseen expenditures that will break your budget. Likewise, hiring and training internal workers can be expensive.
Most managed IT service providers have fixed monthly charges for their IT support services, thereby saving them the hassle of in-house HR expenses. The contract includes regular maintenance and repairs, which prevent you from being surprised by unexpected service fees. They'll also assist you in making plans to invest sensibly in new technologies and avoid unexpected capital expenditures.
#2. Quick Disaster Recovery
Natural disasters or cyberattacks can seriously harm a business's operations, regardless of how well-prepared it is. Your company can reduce potential financial losses and guarantee that it is best to be ready for disaster recovery thanks to the assistance of a managed IT services provider. Your business may quickly bounce back from any disaster with the help of a managed service provider, thereby keeping you open for business and producing results. This reduces the financial toll of a crisis and can foster consumer loyalty and increase client trust in your company.
#3. Lowers Employee Downtime.
Productivity suffers greatly from downtime. Nothing is worse for a business owner than to witness employees idly pacing around the break room while they are supposed to be working because there is an IT or Internet problem. According to statistics, missed revenue due to IT-related problems cost companies approximately $265 billion each year. Due to IT downtime challenges, many businesses lose an average of $150,000 per year.
Many businesses cannot afford to spend so much money. When you partner with an MSP, they can keep a closer eye on your network 24×7 all year round. As a result, if there is a problem, they are aware of it right away and can fix it without causing any serious downtime.
Even better, managed IT services providers are proactive and fix your system before it breaks rather than wait for it to break. To help you avoid experiencing problems in the first place, they undertake routine and preventive maintenance.
#4. Risk Mitigation
The right MSP will ensure that your company has all the necessary resources to lower risks related to IT operations. These consist of fundamental security guidelines, data backup and recovery methods, and incident response strategies.
By doing this, MSPs help reduce the likelihood of cybersecurity attacks, system outages, data privacy violations, and compliance violations. They can also help efficiently identify, evaluate, and manage potential hazards.
#5. Scalability
The growing demand for technology resources and assistance should not be a concern with managed IT services. As your company grows, it will need additional technology tools and assistance for its employees to meet the rising demand from its customers. To address this issue, simply renegotiate the contract with your Managed IT Services Provider.
Enquire with your managed IT services provider about the range of business sizes they can accommodate. If your business has big scalability and growth ambitions, you can determine if the service provider can support you with this objective.
Do You Need Managed IT Services?
To decide whether managed IT services best fit your business's requirements and needs, it's important that you conduct a thorough analysis of your current business environment. Less employee downtime will help you save money, which will be highly beneficial in the long term. Your business management will become easier to manage, and you'll feel more confident in your business.
Conclusion
Partnering with a reputable and expert Managed IT Services Provider has many advantages. A reputable MSP will offer your company a comprehensive IT department that includes a backup staff, tools, systems, processes, and procedures that are designed to help you scale your IT operations and improve security.
Choosing the right MSP is critical, as this partner could potentially prove to be either a costly hassle or a valuable partner. Look for a reputable MSP with a proven track record of success who can give you access to the tools, systems, and transparency your business needs to succeed.
Next Steps:
Feel free to contact us if you want to leverage the benefits of Managed IT services. With over 17 years of experience, our experts always have helpful suggestions for you.
Email us at sales@analytix.com or call 781.503.9003 today.
Follow our blog for industry trends and the latest updates.