To effectively manage your business and grow your company faster in the current competitive market, it's important to Implement the latest technology and utilize services like a virtual assistant, outsourcing, and SaaS (Software as a service). The latest technology enables automation and allows you to improve business operations through intelligent reports, strategic analysis, and data prediction.
Anyone who wishes to operate a successful business in 2023 should leverage technology to understand their competitors' businesses and strategies. Understanding their insights can help you scale faster and stay ahead of them. To gain insights and focus on the strategic part of the business, we help our clients with IT infrastructure management services and integration and implementation of the latest technology for different types of interaction with a customized solution.
In 2022, we have seen steady growth in cloud infrastructure usage. Entrepreneurs are moving to the cloud to meet market demands, increase productivity, boost business performance and improve real-time business connectivity. A proper IT infrastructure can help your business stay connected with the market, clients, employees, and customers 24/7. There are numerous benefits to optimizing IT infrastructure in your organization. After all, IT plays a crucial role in keeping your business online.
IT infrastructure management streamlines tasks and projects, leverages automation, and manages all IT services and solutions. It is prudent to manage your IT infrastructure effectively by upgrading to the latest network, security, products, and hardware (if you are using traditional IT infrastructure).
If you have limited resources and time, managed IT services can help you decrease your overall workload, improve server uptime and enhance network efficiency. Managed IT services are more affordable when compared to in-house team operations. In addition, managed IT service providers offer end-to-end business solutions that are designed to help companies like yours meet market demands.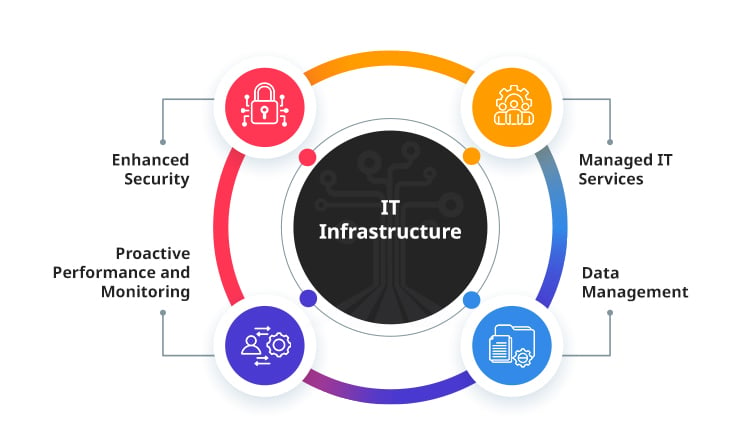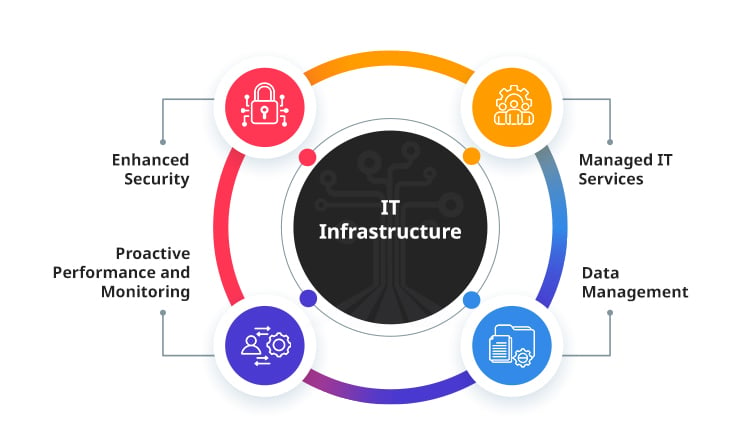 Benefits of IT Infrastructure Management
Boost Productivity
Up-and-running business operations and proactive services allow your team to perform better and enable a better customer experience. Less downtime, faster servers, and a healthier network will allow you to improve overall business performance, which will allow you to serve more clients and end-users.
Automation
Advanced IT infrastructure automates bug detection, stops ransomware attacks, controls network pings, and manages traffic and live monitoring systems, which allows you to take immediate action to reduce downtime. Automation allows your team to focus on lucrative tasks like server administration, database management, and operating system (OS) updates.
IT support and maintenance
An IT infrastructure management team is always on standby to provide assistance and ensure business connectivity 24/7. They will try to detect issues and resolve IT errors as soon as possible so that users can work effectively. Other benefits of IT infrastructure management are data protection, high-end security, migration, and safe upgrading to the latest features, tools, and products.
Network monitoring reports
The monitoring tools continually observes your network and servers to streamline server speed and stop the system from crashing. These advanced system generate reports for network traffic, speed and brute force attacks, hardware health, end-user experience, and performance statistics. The data generated in the reports will help you undermine risks and leverage real-time opportunities. In addition to actions, network monitoring reports help identify slow or failing tools, systems, and applications before they cause problems.
Additionally, IT infrastructure management allows you to tackle and improve operations on-demand to maintain progress with steady growth.
IT infrastructure management can help you allocate necessary resources proactively to increase work efficiency and decrease downtime. This scalability allows you to provide a smoother experience, and live monitoring enables you to protect your online business. We provide business assistance to companies like yours so you can focus on core competencies. At the same time, we manage your IT infrastructure and IT operations thanks to 24/7 support and assistance.
Next Steps
Empower your business with uninterrupted services and ensure 24/7 business connectivity with our managed IT services.
Email us at sales@analytix.com or call us at 781.503.9003 today.
Follow our blog for industry trends and the latest updates.