Today, eCommerce businesses need to ensure they remain attractive to visitors who can become customers. The most popular online shopping categories in the US include fashion, toys, hobbies, and electronics. A Statista report shows that in 2022, there were 268 million online consumers in the United States, a number that has been projected to increase to nearly 285 million in 2025. Here are some common eCommerce design mistakes businesses often make:
Failing to Channel Efforts
Common eCommerce website design mistakes can result from a poor understanding of customer needs and execution. Channelizing these efforts can help designers develop better websites. Timely and relevant research can help businesses understand customers better and outline their requirements to ensure the website's design is conducive to positive user experiences.
Not researching the business' target audience can result in a website with inaccurate product descriptions, irrelevant content (both visual and text), incomplete or incorrect links, or even mistakes such as pairing the wrong image and text.
Combining research elements, such as target audience preferences and the business's value proposition, can help improve marketing efforts by synchronizing audience expectations with the business value proposition.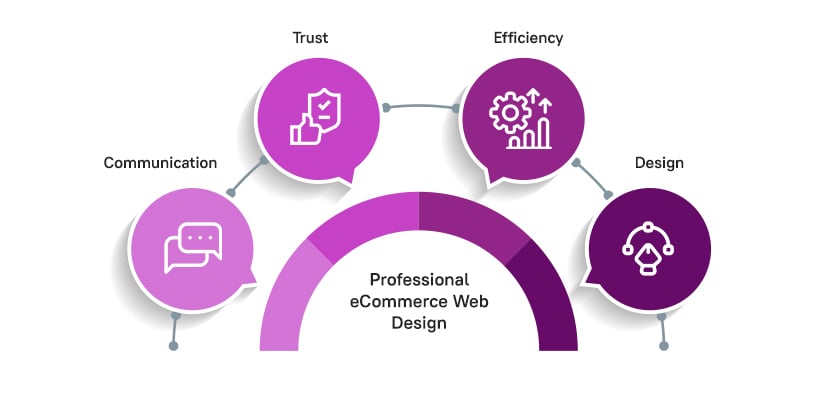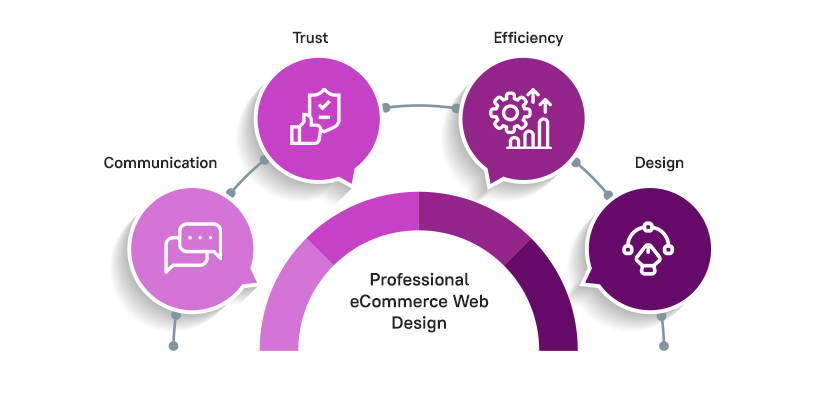 Not Optimizing User Experience
Users expect nothing less than a unique and memorable experience from their eCommerce forays. Website design errors could include poor navigation, missing product or service links, and poor visual appeal.
User experience is also device-driven. Designs that look high-quality and complete on a laptop computer may appear broken or incomplete on smaller screens like smartphones. Given people's increasing dependence on mobile devices for online browsing, businesses must ensure their eCommerce website is functional and fully accessible across different devices. Businesses need to ensure zero web design mistakes are made when designing their eCommerce website.
The following elements can help guide businesses:
An eCommerce website that has an attractive and effective UX that helps engage visitors and potential customers.
Understanding customer behavior, preferences, and expectations, which are all analyzed and interpreted to benefit the business through customized content and optimized user interfaces.
A strong marketing strategy that considers user expectations, market supply and demands, and effective interfaces that can help drive more engagement and conversions.
Ensuring a great user experience helps improve search engine rankings for the eCommerce website as well.
Poor Trustworthiness
An eCommerce business needs to communicate trustworthiness to its visitors. Establishing trust is critical for eCommerce businesses, especially with regard to factors such as product descriptions and payment transactions.
Websites that display security information to visitors, such as an SSL, help convey a sense of trust and honesty to visitors. An SSL certification allows websites to display a lock symbol on their URL. It also allows them to follow the HTTPS protocol, which immediately communicates secure transactions to visitors.
Not having a security protocol is a website design mistake that can turn away even a loyal visitor, given the increasing prevalence of online scams and security breaches.
Complicated Checkout Protocols
For most online buyers, a secure and responsive checkout process reflects the trust and value of an eCommerce website.
While businesses may use encryption and multiple authentications, none of these measures help if the process is complicated. Some common eCommerce design mistakes include:
Including multiple options, at times, unnecessary purchase prompts or products and service options on the checkout page.
A complex or lengthy process to add more items to the cart if a customer needs to make some last-minute purchases before the final checkout.
Not indicating how far the payment has progressed leads to a negative experience, which may discourage return customers.
Not including a confirmation of payment received can also put off potential buyers.
Not Hiring Professionals for Web Hosting
Many eCommerce businesses do not hire professional eCommerce website design professionals or eCommerce website design companies. This creates challenges for multiple reasons:
Not being able to focus on operating the eCommerce business and building the website at the same time.
Losing out on the benefits that an effective website can generate, including providing visitors with a flawless user experience.
Losing out on visitors and lead conversions due to mistakes that may seem small but are in fact costly, such as not having a strategically placed Call to Action (e.g. "buy now") button.
Multi-tasking on business building and website designing, which leads to lost time on both.
Next Steps